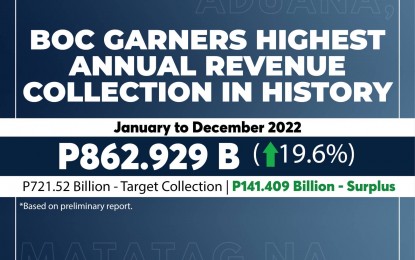 MANILA – The Bureau of Customs (BOC) has achieved its highest annual revenue collection to date after collecting a total of PHPP862.929 billion for 2022.
Based on the preliminary report released on Friday, the bureau said the amount exceeded its target collection of PHP721.52 billion by 19.6 percent or a surplus of PHP141.409 billion.
The 2022 revenue collection performance also showed an increase of 34.1 percent or PHP219.367 billion compared to the PHPP643.562 billion revenue collection in 2021.
Aside from collecting its highest revenue so far, it was the first time in its history that all ports exceeded their annual collection targets per the BOC Financial Service.
The Post-Clearance Audit Group (PCAG) collected PHP1.840 billion in deficient Customs duties, taxes, penalties, and interests, surpassing its 2021 collection of PHP1.522 billion by 21 percent and its target collection of PHP1.584 billion by 16 percent.
The group bolstered the BOC Post Clearance Audit and Post Modification through the Computer-Aided Risk Management System (CARMS), which was implemented in August 2022. The system provides critical information for traders to measure and improve Customs compliance.
The bureau also raised PHP292 million from public auctions of overstaying cargoes such as seized, forfeited, or abandoned containers.
Apart from generating additional revenues for the government, the selling of such cargo decongests the ports for more efficient trade facilitation.
Additional revenues include rice tariff collections worth PHP22.8 billion. (PNA)