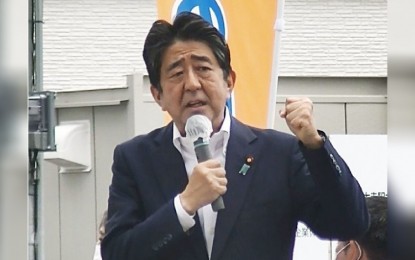 ISTANBUL – Six months after former Japanese Prime Minister Shinzo Abe was assassinated, Japan on Friday indicted his killer on charges of murder and violating the firearms control law.
The charges followed a mental examination of Tetsuya Yamagami, 42, who "is competent to stand trial," Tokyo-based Kyodo News reported.
His detention period for examination had expired on Tuesday when he was shifted to a police station in the same area from Osaka Detention House.
Yamagami had shot and fatally injured Abe on July 8 last year during an elections campaign in western Nara city.
He was arrested soon after shooting Abe, 67, who later succumbed to his injuries the same day in the evening.
He was placed "under evaluation since July 25 to determine whether he was mentally fit to be held criminally responsible for his actions."
The accused has also expressed his intentions to go to a university after serving his jail term.
Under detention at the Osaka Detention House, he studied English and other subjects after his relatives sent him reading material including a dictionary.
According to Japanese state broadcaster NHK, Yamagami was "unable to go to college as his mother had made huge donations to the religious group widely known as the Unification Church."
The shooter claimed he held a grudge against the Unification Church, a religious group known for its mass weddings and aggressive donation solicitations after his mother's large financial donations caused his family to fall apart.
He targeted Abe in the belief the former prime minister had links to the group.
The controversial group was founded by a staunch anti-communist group in South Korea in 1954 and is often labeled as a cult.
It was later established in Japan in 1968 with the support of Abe and Japan's former Prime Minister Nobusuke Kishi.
After Yamagami's arrest, police searched his home in Nara and confiscated multiple homemade guns and gunpowder.
He is also being probed for "damaging a building after test-firing a weapon at a facility connected to the Unification Church, a day before the fatal shooting."
Since the shocking assassination of Abe, Japan has passed a bill banning organizations from "maliciously soliciting donations."
The bill was passed by the House of Representatives last December after Japan saw criticism over the controversial Unification Church.
The bill is now being discussed in the House of Councilors, or the upper house. (Anadolu)