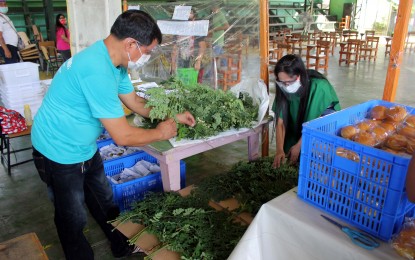 BUTUAN CITY – The Department of Environment and Natural Resources in the Caraga Region (DENR-13) and the Commission on Higher Education (CHED) have inked a memorandum of understanding (MOU) for the implementation of the "One Million Malunggay Plant Growing Advocacy Project".
The signing was held Friday at the Hero Auditorium of the Caraga State University in Butuan City, led by DENR-13 executive director Nonito Tamayo and CHED-13 director Dr. George Colorado.
In an interview on Saturday, Tamayo said state universities and colleges (SUCs) will be part of the project.
DENR-13 will link the SUCs to the National Greening Program (NGP) of DENR-13, particularly to the 123 associations in the region under the Community-Based Forest Management Agreement (CBFM), according to Tamayo.
DENR-13 has a target area of 1,200 hectares for its NGP project.
"The CHED and the SUCs here will provide the seeds and seedlings of malunggay trees which will be propagated in the 17 nurseries of the DENR situated in different provinces," he said, adding that they aim to begin the project by February.
The developed malunggay (Moringa oleifera) seedlings will be distributed to the 123 associations under the CBFM for planting and production.
"We will intercrop the malunggay trees with the different species of trees in our NGP areas in the region," Tamayo said. "Malunggay is a marketable agriculture product from which our CBFM associations can gain some income."
He added that malunggay leaves can also be donated to schools that are conducting feeding programs.
"Malunggay is more potent in terms of Vitamin C and potassium. The malunggay leaves are good for our children," Tamayo said.
Planning for the project began in March last year, marked by the ceremonial planting of 50 malunggay trees at the CHED grounds.
In Laoag, Ilocos Norte where it is known as marunggay, the Marunggay Festival was launched in June 2021 to promote it as a superfood due to its promising nutritive contents
Eastern Visayas also planted one million malunggay trees in 2021, spearheaded by the National Nutrition Council.
The fast-growing malunggay trees thrive in tropical or subtropical conditions, should be in a sunny location and require little care, except keeping the soil moist and trimming branches to encourage fruiting. (PNA)