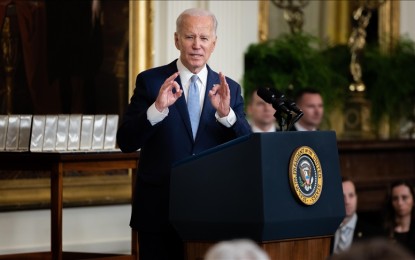 WASHINGTON – US President Joe Biden will deliver the State of the Union address on Feb. 7, after accepting an invitation from House Speaker Kevin McCarty, the White House said Friday.
"We have received speaker McCarthy's kind invitation and the President has accepted it," White House Spokeswoman Karine Jean-Pierre told reporters.
She said that Biden was in a "direct conversation" with McCarthy shortly after he was elected as the speaker, and congratulated him in person.
In his invitation letter, McCarthy, a Republican, said: "The American people sent us to Washington to deliver a new direction for the country, to find common ground, and to debate their priorities.
"In that spirit, it is my solemn obligation to invite the president to speak before a Joint Session of Congress on February 7th so that he may fulfill his duty under the Constitution to report on the state of the union," wrote McCarthy.
"Your remarks will inform our efforts to address the priorities of the American people," he added.
Biden delivered his first State of the Union address in March 2022. (Anadolu)