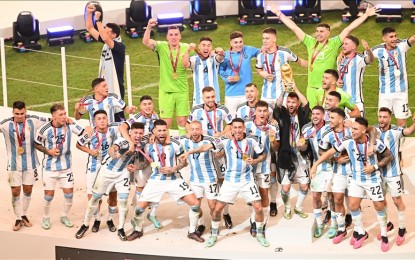 MOSCOW – The International Football Federation (FIFA) announced on Friday that it opened disciplinary proceedings against Argentina for alleged offensive behavior after winning the 2022 World Cup final in Qatar last month.
The Argentine national football team became a three-time world champion when it defeated France in a penalty shootout in the finals.
After the game, a video of the Argentinian players celebrating was posted on the Internet, on which goalkeeper Emiliano Martinez announced a moment of silence in a dressing room for French footballer Kylian Mbappe - despite the latter having scored three goals against the Argentine during the tourney.
Martinez's continued to make more lewd gestures during the championship parade in Buenos Aires, where he showed a doll with an attached photo of Mbappe.
"The FIFA Disciplinary Committee has opened proceedings against the Argentinian Football Association due to potential breaches of articles 11 (Offensive behavior and violations of the principles of fair play) and 12 (Misconduct of players and officials) of the FIFA Disciplinary Code," the statement read.
The world football federation has also initiated a case against the Croatian Football Association for alleged violation of "discrimination" and "order and safety at matches" after the match for third place against the Moroccan team, which the Croatians won.
This was in connection with media reports that Croatian players Dejan Lovren and Marcelo Brozovic displayed fascist connotations during the end-of-the-tournament party. (Sputnik)