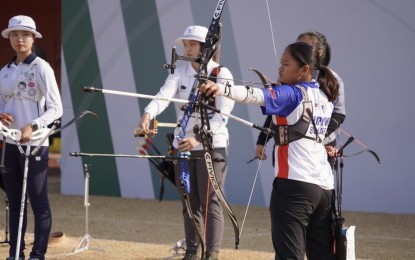 MANILA – Five international tournaments are lined up for Filipino archers this year, including three qualifiers for the 2024 Paris Olympics.
The World Archery Championships in Berlin, Germany (July 31 to Aug. 6), 19th Asian Games in Hangzhou, China (Sept. 23 to Oct. 8) and Asian Archery Championships in Bangkok, Thailand (Nov. 4 to 12) will offer ranking points for slots to the next Olympics.
The national team will also compete in the Asia Cup Leg 1 in Chinese Taipei on March 14 to 19) and Leg 3 in Singapore on June 5 to 10 as part of its preparation for the Asiad.
Last year, six athletes went to South Korea for the World Archery Asia joint training and Asia Archery Challenge.
Gabrielle Monica Bidaure bagged the silver medal in the women's recurve event in Gangwon-do province behind hometown bet Nam Su Hyun Nam.
Her sister, Pia Elizabeth Angela, also attended the training camp along with Phoebe Nicole Amistoso, Damariz Gabrielle Calera, Jason Emmanuel Feliciano and Riley Silos.
Meanwhile, the 17th Philippine Archery Cup Leg 1 and the 2022 Philippine Archery Cup finals will be held on Jan. 20 to 22 at the STI Gold Toe Archery Center in Barangka, Marikina City.
The Philippine Archery Cup features the 50-meter barebow, para and compound, and 70-meter recurve events in the men's and women's divisions.
The Philippine Archery Cup finals, reset last year due to inclement weather, will be played in the afternoon on Jan. 22. (PNA)