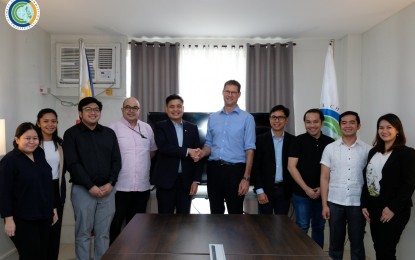 MANILA – It won't be long before climate information services become more accessible to Filipinos.
In a press release, the Climate Change Commission (CCC) announced that the German Development Cooperation (GIZ) South-South Collaboration on Climate Information Services (SSCIS) Project Team paid a courtesy call on CCC Vice Chair and Executive Robert Borje, the Overall Program Director, on Friday to discuss the next steps in the implementation of the SSCIS.
The 5-million euro (PHP298.8 billion) SSCIS project aims to provide climate information services to national and local government and the academe, and establishes a South-South Center of Excellence as a venue for knowledge exchanges among climate-vulnerable countries.
"During the meeting, Borje welcomed the SSCIS Project Team tasked to handle project operations under the guidance of the CCC as the lead government partner, in coordination with relevant agencies and institutions," the CCC said.
Borje described the SSCIS Project as an opportunity for CCC and the Philippine government "to further enhance knowledge and capacities in data management, including collecting, generating, and analyzing climate data as a basis of climate action."
"The South-South Center of Excellence will allow us to further deepen our engagement with the Climate Vulnerable Forum (CVF), promoting a whole-of-world approach in enhancing climate resilience of communities," Borje said.
The CVF is an international partnership of countries highly vulnerable to a warming planet, according to its website. It serves as a South-South cooperation platform for participating governments to act together to deal with global climate change.
The SSCIS Project Team was led by Dr. Bjoern Surborg, Principal Advisor of the SSCIS Project and Cluster Coordinator for Climate Change and Disaster Risk Management for GIZ Philippines Office.
"The GIZ Philippines, through the South-South Project, remains committed to work with the Philippine government in promoting data-driven climate action to enhance local knowledge on climate change," Surborg said.
Surborg was joined by Chief Adviser Jimmy Loro and team members Theresa Lim, Denise Ann Suarez, Richard Antonio and Rune Ylade.
The Philippines' geographical location and archipelagic formation make it one of the most vulnerable countries in the world to climate change.
Based on Germanwatch Institute's 2021 Global Climate Risk Index, the Philippines is the fourth most affected country in the 20-year period from 2000 to 2019. (PNA)