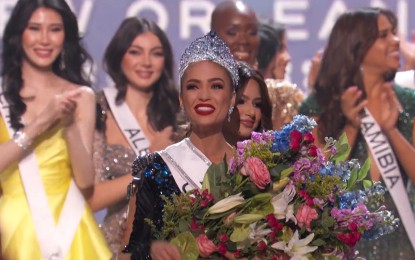 MANILA – Filipino-American beauty queen R'Bonney Gabriel was crowned the 71st Miss Universe on Sunday morning (Philippine time) during the coronation ceremony held in New Orleans, Louisiana, US.
The 28-year-old bested 83 other national delegates, including Amanda Dudamel from Venezuela, who was the first runner-up followed by Andreína Martínez from the Dominican Republic.
Gabriel is also the first Filipino-American to win Miss USA in October last year. She was born in Houston, Texas to Filipino-American Remigio Bonzon and American Dana Walker.
According to the Miss Universe website, Gabriel is "an eco-friendly fashion designer, model, and sewing instructor with an excitement for life."
She has a bachelor's degree in fashion design with a minor in fibers from the University of North Texas.
She is currently the chief executive officer (CEO) of her own sustainable clothing line, R'Bonney Nola.
Gabriel is also the lead sewing instructor at Magpies & Peacocks, a Houston-based non-profit design house that is dedicated to using "Fashion As A Force For Good" through sustainability and community impact.
She teaches sewing classes to women that have survived human trafficking and domestic violence.
During the first round of the Q&A segment, Gabriel was asked the following question: "Miss Universe recently made an inclusive change, allowing mothers and married women to compete next year. What's another change that you'd like to see, and why?"
She replied: "For me, I would like to see an age increase because I am 28 years old and that is the oldest age to compete. I think it's a beautiful thing. My favorite quote is 'If not now, then when?' As a woman, I believe that age does not define us. It's not tomorrow, it's not yesterday, but it's now. The time is now that you can go after what you want."
In the final Q&A segment, the Top 3 contenders were asked how they would work to demonstrate Miss Universe as an empowering and progressive organization if they won the title.
Gabriel said: "I would use it [the Miss Universe platform] to be a transformational leader. As a very passionate designer, I've been sewing for 13 years. I use fashion as a force for good. In my industry, I'm cutting down on pollution through recycled materials when I make my clothing. I teach sewing classes to women who survived from human trafficking and domestic violence, and I say that because it is so important to invest in others, invest in our community, and use your unique talent to make a difference. We all have something special and when we plant those seeds to other people in our life, we transform them and we use that as a vehicle for change."
Meanwhile, Philippine contestant Celeste Cortesi failed to advance to the top 16, ending the Philippines' streak of entering the pageant's semi-finals since 2010.
Cortesi won Miss Universe Philippines crown in May 2022.
This year's pageant was organized for the first time by JKN Global Group PCL, a Thailand-based media distribution company, after tycoon and transgender rights advocate Anne Jakkaphong Jakrajutatip bought the Miss Universe Organization for USD20 million in October last year. (PNA)