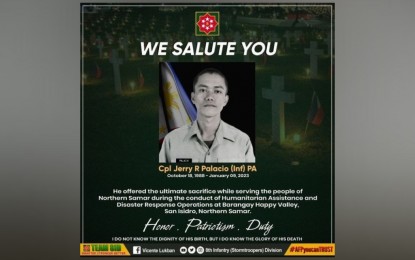 MANILA – The Department of National Defense (DND) extended its condolences to the family of a Philippine Army (PA) troop who died while helping in emergency response operations in Northern Samar.
"The DND conveys its deepest sympathies to the family of Corporal Jerry R. Palacio (Inf) PA (Philippine Army), who lost his life during emergency response operations in San Isidro, Northern Samar on January 9, 2023," Defense spokesperson Arsenio Andolong said in a statement over the weekend.
The town of San Isidro was inundated by flood waters due to continuous rains caused by a low pressure area and the shear line, which trapped a number of residents.
"The 8th Infantry Division of the Philippine Army immediately deployed its personnel to support the local government's rescue operations. It was during this mission that Corporal Palacio fell victim to the onrush of flood waters," Andolong said.
He also called Palacio a patriot who was always ready to serve, especially in times of emergency.
"He paid the ultimate sacrifice in service to our people and the country he loved. He was a courageous and heroic individual, who always put the needs of others before himself. He will forever be remembered by our grateful nation in the highest regard," Andolong said.
Palacio's remains were found on Jan. 11 in the village of Happy Valley in San Isidro, some three kilometers from where he was reportedly swept away by flash floods.
He added that the "One Defense Team" affirms its commitment to bolster all efforts of the national government to safeguard communities against disasters.
This includes efforts in capacitating responders in the uniformed services and the public sector and echoing the call to provide additional benefits for those involved in humanitarian response work. (PNA)