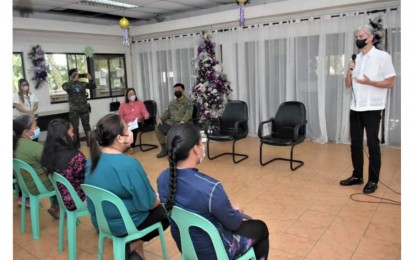 BACOLOD CITY – Negros Occidental Governor Eugenio Jose Lacson renewed his call on Monday for those who remain in the armed struggle to surrender after a New People's Army here rejected the call for local peace talks.
"We will just have to continue with the Task Force to End Local Communist Armed Conflict (TF-ELCAC), meaning to say we will encourage their followers to come down, surrender their arms, and benefit from the program of the government," Lacson told reporters.
He added that after the offer for local peace talks had been rejected by the Apolinario Gatmaitan Command of the NPA Negros spokesperson Maoche Legislador, it doesn't mean the provincial government will just do nothing.
Rather, the province will sustain its invitation for the NPA rebels to surrender, said Lacson, who chairs the Provincial TF-ELCAC.
The governor said the province continues to work closely with the Department of the Interior and Local Government, Armed Forces of the Philippines, and the Philippine National Police as well as with civil society groups and multi-stakeholders to implement peace-building initiatives, particularly in rural communities.
Legislador issued a statement on Jan. 11, stating the proposed localized peace talks is a "murderous psychological warfare that is a failed attempt at deodorizing the 303rd Infantry Brigade's brutal counterrevolutionary war".
He added that "all guerrilla fronts under the Apolinario Gatmaitan Command of NPA Negros have firmly rejected and opposed 'local peace talks' and will never engage in such a phoney undertaking".
Col. Michael Samson, acting commander of the Philippine Army's 303rd Infantry Brigade, had earlier said through local peace engagements, those willing to leave the armed revolution will have the opportunity to surrender without misgivings after being fed by propaganda that they will be harmed by government forces.
"We can talk out the local issues that can be addressed by the local government units and government agencies, then it's better," he added. (PNA)