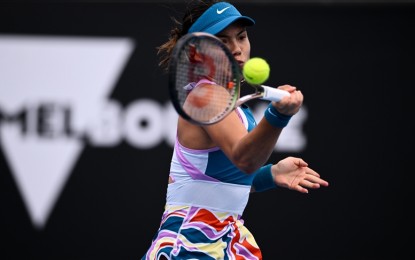 ANKARA – The 2023 Australian Open, the first Grand Slam of the year in tennis, will begin Monday in Melbourne.
The 111th edition of the tournament will feature Serbian superstar Novak Djokovic, who is still believed to be unvaccinated against Covid-19.
Djokovic, the Australian Open's record-holder in men's singles with nine titles, is back to play the game in Melbourne a year after his deportation over his vaccine status.
The 35-year-old was barred from the 2022 Australian Open for the same reason. Australia then banned him for three years after his visa cancellation was upheld by three Federal Court judges.
For the 2022 Australian Open, Australia mandated that all players be fully vaccinated against the coronavirus to compete in the major tennis tournament.
In November, Djokovic, who ranked 5th in the world, was granted a visa to play in the 2023 Australian Open after his three-year ban was overturned.
He is now looking for his 10th Australian Open title after clinching it in 2008, 2011, 2012, 2013, 2015, 2016, 2019, 2020 and 2021.
First held in 1905, the Australian Open will be played from Jan. 16-29 at Melbourne Park.
Reigning champions
Rafael Nadal of Spain secured the 2022 Australian Open title to be the defending champion in men's singles and will be playing this year in Melbourne.
The 36-year-old has won an all-time record 22 Grand Slams.
Ashleigh Barty, an Australian former tennis player, won the 2022 Australian Open in women's singles.
Barty bagged the Australian Open, French Open and Wimbledon once in her career but surprisingly retired last year.
She ended her tennis career in March at the age of 25, less than two months after winning the 2022 Australian Open.
She was the world no. 1 at the time.
A$76.5 million to be awarded
The Australian Open's prize money will be at a record high at this year's tournament.
The organizers confirmed that a record 76.5 million Australian dollars (USD53.4 million) will be in the prize pool for the 2023 competition.
In 2022, the figure was A$74 million.
Meanwhile, the 2023 winners of the men's and women's singles competitions will each get a check for A$2.97 million (USD2.07 million).
Most titles in Australian Open history
Djokovic has claimed nine Australian Open titles, the last in 2021, to lead the men's singles.
Roy Emerson (Australia) and Roger Federer (Switzerland) won six titles in Melbourne each. Both have retired.
Margaret Court, a retired Australian female tennis player, won it 11 times to set a record for the most Australian Open titles.
Serena Williams from the US won seven Australian Open championships, and Nancye Wynne Bolton (Australia) had six victories in Melbourne.
Bolton died in 2001 and she was 84.
Nick Kyrgios withdraws
Nick Kyrgios has pulled out of the 2023 Australian Open.
Nick Kyrgios said he has a parameniscal cyst growing in his left meniscus, which is the result of a small tear in his lateral meniscus.
"(This is) one of the most important tournaments of my career. Hasn't been easy at all," the 27-year-old said, adding: "I'm obviously extremely disappointed."
Kyrgios will miss his first home Grand Slam since his debut in 2014.
The 2022 Wimbledon men's singles finalist had reached the quarterfinal in the 2015 Australian Open but was eliminated by British Andy Murray. (Anadolu)