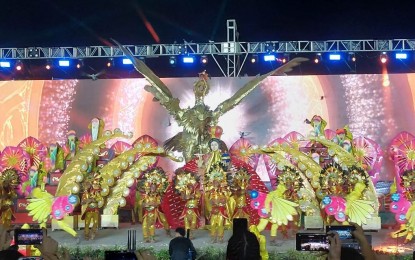 CEBU CITY – The visiting contingent from Surigao del Norte province has bagged three major awards in the Sinulog 2023 festival on Sunday.
The organizers of Omega de Salonera have as forefathers fiesta performers on Sanciangko Street, one of Cebu City's famous downtown roads, in the early 1900s. It was adjudged as the overall champion of the Ritual Showdown in the Free Interpretation category and won PHP1 million in cash.
The group was also chosen as champion in the Street Dance category, which entitled it to another PHP1-million cash prize.
The contingent from Bucas Grande Island in Surigao del Norte also bagged the Best in Costume and second place in the Best in Musicality category.
The famous local talent, Lumad Basakanon, who bagged several awards in previous years' Sinulog competition, bagged the second prize for the grand parade street dancing category, followed by Banay Labangon (3rd); Banauan Cultural Group (4th); and Tribu Mabolokon (5th).
In the free interpretation category ritual showdown, the Lumad Basakanon came in second, Bailes De Luces La Castellana of La Castellana town in Negros Occidental province (3rd), Barangay San Roque Basakanon (4th), and Tribu Mabolokon (5th).
Local contingent, the Inayawan Talent Guild and Cultural Troupe, bagged the grand prize for the Sinulog-based Ritual Showdown, followed by Barangay Tejero (2nd), Banauan Cultural Group (3rd), Banay Labangon (4th), Alpha Kappa Rho - Cebu Supreme Council (5th).
The Free Interpretation Category Best in Musicality grand champion this year is Lumad Basakanon, while the Omega De Salonera placed second, followed by Barangay San Roque - Ciudad (3rd), Bailes de Luces La Castellana - Negros Occidental (4th), and Hugpong Kabatan-onang Tisaanon (5th).
Niño Ruben Mateo grabbed the grand prize for the parade puppeteers category while fellow puppeteers, Orly Johnson Fuentes and Angelie Marie Aranas placed second and third, respectively.
The group Baruc Siblings and Friends won as the parade "Higante" (giant) category champion, while Jerald Bilones' giant came in second place and ABC Friendship's entry, third place.
For the float parade, International Pharmaceuticals, Inc. was adjudged as the winner, while the floats of ABC Friendship and the Municipal Government of Tuburan won second and third prizes, respectively.
The Sinulog organizers also awarded the Best Tent to Cebu2World Megawide-Carbon as first placer, while the Department of Tourism, Virginia, Choobi Choobi, and Jeju as second, third, fourth, and fifth placers, respectively.
The Hwacheon Beomangol Nongak Preservation Association from Korea graced the Sinulog stage Sunday as guest performers.
There were five entries in the Sinulog-based category and 11 in the free interpretation category.
There were 40 entries in the float, eight in the giant, and six in the puppeteers' category. (PNA)