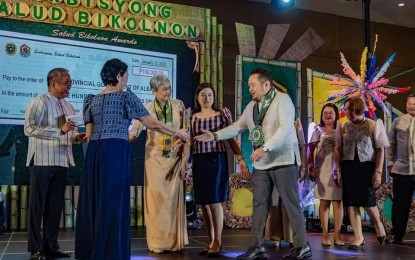 LEGAZPI CITY – Albay Governor Edcel Grex Lagman has vowed to work harder to give his constituents the best public healthcare system which they deserve.
This, after the Albay provincial government was recognized by the Department of Health in Bicol (DOH-5) for implementing its 2022 health programs effectively.
The province received its Green Achievers Award on top of 21 other recognitions, besting the other five provinces in the region during the 11th Salud Bikolnon Awards last Friday.
In an interview on Monday, Lagman said: "We will use these awards and recognitions as an inspiration so that we could give to our fellow Albayanos the best health care that is responsive, accessible and efficient, as our means of empowering and making them productive members of our society."
The governor extended his gratitude to the DOH-Bicol, the Salud Bikolnon committee and other stakeholders, especially the rank-and-file employees of the Albay Provincial Health Office (APHO) and its extension service providers.
The governor also commended the municipal and city rural health units (RHU), the district hospitals and doctors of the Albay Medical Society for their efficient service.
Albay province received the following recognitions: Top Performing Province for Population Tuberculosis (TB) Testing Rate; Top Performing Province for Deworming Mass Drug Administration; Chikiting Ligtas Award (Top Performing Province during the MR-Td Campaign and Chikiting Ligtas Bakunation Days).
Lagman said this year's award is more meaningful, considering that the province is still recovering from the effects of the pandemic and the most devastating typhoons in recent history.
He said these tested the resolve of the people and the provincial leadership, but he is optimistic that Albay is well on its way to recovery, greater success and economic progress.
The Salud Bikolnon is the most prestigious and longest-running award being given by the Department of Health (DOH)-Bicol Center for Health Development.
Every year, DOH-5 spearheads the recognition of top-notch practices of local government units and other sectors in terms of health governance.
This year's awarding carried the theme "Pagkaburunyog para sa Salud nin Kagabsan". (PNA)