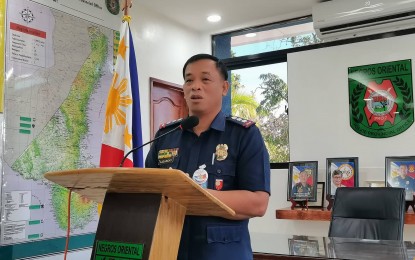 DUMAGUETE CITY – The police and military have tagged the Communist Party of the Philippines-New People's Army (CPP-NPA) as the one behind the killing of a village official in Vallehermoso, Negros Oriental over the weekend.
Col. Reynaldo Lizardo, provincial police director, in a press briefing on Monday at Camp Francisco Fernandez in Barangay Agan-an, Sibulan town, said councilor Cerilo Barba Balasabas of Sitio Banban, Barangay Guba was "friendly and helpful with government troops".
A police report said Balasabas, 48, was shot by three gunmen around 6:30 p.m. Saturday at his house and was declared dead on arrival at the Rural Health Unit.
Initial police investigation showed that the victim was outside his house together with his wife when the suspects, whose faces were not covered and were armed with long and short firearms, arrived.
One of them told the wife, Sortcelia, to go inside as they wanted to talk to her husband.
The gunmen shot the village official several times and fled toward the mountainous areas of nearby Guihulngan City.
Capt. Antonio De Leon Jr., OIC police chief of Vallehermoso, said Balasabas was the president of the farmers' association in Barangay Guba and was known for being helpful to his neighbors and constituents.
The NPA's Leonardo Panaligan Command through its spokesperson, Ka JB Regalado, issued a statement, claiming responsibility for the death of Balasabas for several reasons, one of which was his being an "informant" of the military.
Meanwhile, Lt. Col. William Pesase, commanding officer of the Philippine Army's 62nd Infantry Battalion (62IB), condemned the killing of the barangay official, saying this was just one of the many atrocities committed by the NPA that have turned their supporters against them.
Pesase said regardless of what the rebel group is saying, there is no justification for killing a person "except to satisfy their selfish interest for propaganda to their remaining members".
"Many of them have already surrendered and others would also like to do the same," he said in mixed English and Filipino. (PNA)