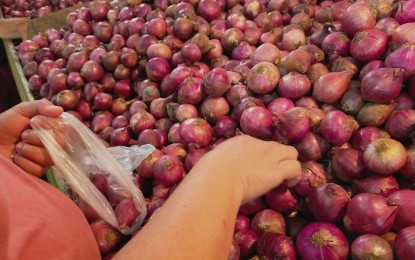 CITY OF SAN FERNANDO, Pampanga – The Department of Science and Technology in Central Luzon (DOST-3) has tied up with two state universities in the region to come up with a project that will boost local onion production.
DOST-3 senior science research specialist Marites C. Batac said on Monday that the project to be undertaken by DOST, in partnership with the Nueva Ecija University of Science and Technology (NEUST) Gabaldon campus and the Center for Sustainable Mechanized Agriculture for Research and Technology (SMART) at the Tarlac Agricultural University (TAU) based in Camiling, Tarlac, will address concerns to unpredictable onion production.
Batac said the DOST has already provided funds for the development and adoption of smart agricultural technologies that could help develop the onion production industry.
With the current shortage of onion supply in the local markets that resulted in prices soaring to as high as PHP600 per kilo, she cited the need of finding science-based solutions that would provide relief to both the farmers and consumers.
"The two state universities will test the applicability and effectivity of so-called smart agricultural technologies to achieve the project's goals," Batac said in a statement.
One of the technologies, she said is the development and adoption of a multi-layer recirculating hydroponics indoor farming system for sustainable onion production that will be designed to provide the optimum amount of water for best productivity.
Another technology, she said will also test the feasibility and profitability of producing onions indoors or in net houses.
"This technology reduces exposure to extreme weather conditions such as torrential rains and droughts. It will provide both the optimum use of water and reduce the effect of insect pests which usually damage and destroy the plants," she said.
A variation of the vertical farming system, Batac said, makes it possible for year-round crop production as it protects the crops from adverse weather conditions.
She added that more importantly, the project will look into the benefits of incorporating automation into the production cycle for efficient crop management and to reduce labor costs.
Onion is usually grown after rice in the dry season when there is no sufficient water for another rice crop. Due to its highly perishable nature, it is also plagued with both production and post-production problems.
It is also prone to pest infestation, like the armyworm, locally known as "harabas", which was first reported in 2016. It ravaged over 1,000 hectares of land and led to a countrywide onion shortage and consequently, higher prices.
Onion production also depends largely on stable climate conditions.
"Farmers have to deal with the ever-present threat of destroyed harvest due to typhoons that visit our country every year and the way to mitigate this is the application of smart technologies," Batac said. (PNA)