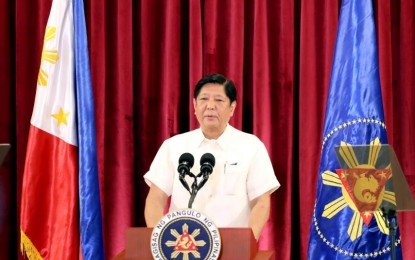 MANILA – The participation of President Ferdinand R. Marcos Jr. at the World Economic Forum (WEF) Annual Meeting 2023 gives him the opportunity to attract foreign investors to do business in the Philippines, an economist said.
At the Laging Handa public briefing Monday, Michael Batu, an economist and assistant professor of Economics at the University of the Fraser Valley in British Columbia, said the WEF is an "appropriate venue" for the Marcos administration to strengthen its foreign relations.
Batu said Marcos' participation at the WEF is an opportunity for the Chief Executive to put forward the country's economic interest.
"The President can promote that our economy is being managed well--there are indicators such as our strong economic fundamentals, and we have a decent credit rating," Batu said in mixed English and Filipino.
He added that the WEF is also a good platform for Marcos to promote the Philippines as an investment and tourist destination, and also to soft launch his administration's sovereign wealth fund.
Batu said the Philippine business delegation attending the WEF also have the chance to meet their foreign counterparts and can explore partnerships through the networking events at the Forum.
"The attendance at events like the World Economic Forum is an opportunity for our own business leaders to talk and network with the world leaders--the prime ministers, presidents of other countries--and other businessmen from different countries for them to expand their businesses," he said.
Marcos arrived in Switzerland on Sunday for the annual WEF meeting in Davos from Jan. 16 to 20. (PNA)