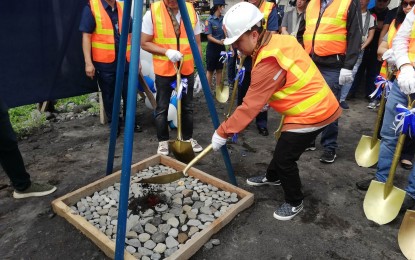 LEGAZPI CITY – A PHP48-million building that will soon rise in the Albay Provincial Police Office in Ligao City is expected to help ease the workflow and boost the morale of more than 200 police personnel.
The project is being realized with the support of the Ako Bicol Party List (AKB).
During a groundbreaking ceremony on Monday, AKB Rep. Elizaldy Co said the initial funding will be for the construction of a multi-purpose grandstand and mess hall building in the provincial police headquarters.
"This is an initial fund for the request of our Provincial Director Col. Fernando Cunanan. As you can see these facilities are very much needed since the office of Albay Provincial Police Office is still very bare. This is very good to be developed as it is needed by the people," Co said in an interview.
He said the project will help boost the morale of the police personnel.
Police officers will soon have a decent place to sleep and eat, he noted.
"These will help their morale and to work more, especially with the insurgency in Bicol and the criminal group the Concepcion, so we really need to strengthen and support our police force," Co said.
Co, with fellow AKB Rep .Jil Bongalon and other officials, attended the groundbreaking of the three-story building to be built inside the provincial police headquarters. (PNA)