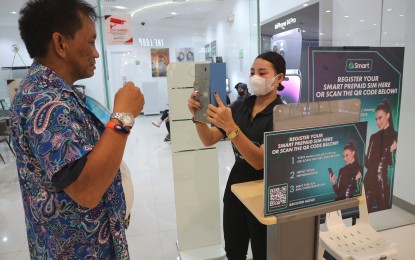 MANILA – Over 20 million subscriber identity module (SIM) cards have so far been registered with the country's major telecommunication companies, the Department of Information and Communications Technology (DICT) reported on Monday.
In a statement, DICT Spokesperson, Undersecretary Anna Mae Yu Lamentillo, said a total of 20,551,294 or 12.16 percent of the 168,977,773 active mobile subscribers in the country have been registered since the start of the SIM card registration law implementation on Dec. 27, 2022.
Smart has so far registered 10,041,791 SIM cards or 14.77 of its 67,995,734 subscribers, DITO with 1,744,935 or 13.31 percent of its 13,108,103 users, and Globe with 8,764,568 registered users or 9.97 percent of its 87,873,936 users.
She called on the public to register their SIM cards and not wait until its deadline on April 26, 2023, and assured them of the safety of the registration process.
"SIM Registration is being implemented in conjunction with the Data Privacy Act. Encryption of data is mandatory. Under the law, PTEs (public telecommunications entities) must ensure that data of end-users are secured, encrypted, and protected at all times," she said.
Earlier, the National Privacy Commission (NPC) ordered the three PTEs to address some data privacy "gaps" in their SIM registration after its simultaneous compliance check on-site visits.
"The three telcos were appraised of some gaps in their personal data privacy implementation and were required to submit proof of compliance within 15 days," said NPC Commissioner John Henry Naga.
However, Naga noted that the three telcos have generally demonstrated "capabilities in protecting the personal data of their clients."
"Telcos should ensure that their security measures are further improved and strengthened as information and communications technology advances," he said.
The on-site visits were made by the NPC's Compliance and Monitoring Division on Jan. 13 to ensure their implementation of appropriate security measures to protect the personal data of Filipinos registering their SIM cards.
"The telcos should consider these compliance check on-site visits as an opportunity to demonstrate that they have sufficient organizational and program controls, and security measures in place to guarantee that the personal data being processed in relation to the SIM registration is safe and secured," Naga said.
Telcos, he said, are responsible for protecting the privacy rights of their subscribers through the proper collection of personal data, restricting access to this data, and data servers that are protected by encryption and layers of firewall. (PNA)