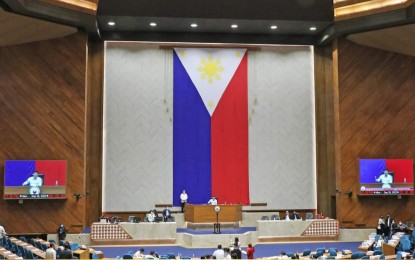 MANILA – Rizal 4th District Rep. Fidel Nograles on Tuesday said the upcoming International Labor Organization (ILO) High Level Tripartite Mission to the Philippines would "greatly" help legislators craft laws beneficial to workers.
ILO is also expected to guide the country's lawmakers in drafting measures to protect the workers including their right to organize and access to decent work and living wages.
"We are optimistic that the ILO High Level Tripartite Mission on January 24-27 would greatly aid us in coming up with legislation that would strengthen the rights of union and labor groups," Nograles, chair of the House Committee on Labor and Employment, said in a statement.
"We look forward to the visit of the ILO and we will help them in any way we can during their visit. The government is very much open to address the concerns of labor groups and of course, we want to empower them and their members as part of our obligation under the ILO Convention No. 87," he added.
The Philippines ratified ILO Convention No. 87, or the Freedom of Association and Protection of the Right to Organize Convention, in December 1953.
In doing so, the government committed to respecting and protecting the freedom of workers to form associations and to organize themselves.
Nograles said once the Philippine government receives the result of the mission, his panel would mobilize to craft legislation that would help strengthen union rights.
"We recognize the fundamental rights of trade union leaders and members and we want to work hand-in-hand with them to help improve working conditions of those in the labor sector," he said.
The ILO Committee on the Application of Standards had previously called on the Philippine government to accept the mission during the 108th Session of the International Labor Conference in June 2019 after noting "with concern the numerous allegations of murders of trade unionists and anti-union violence as well as the allegation regarding the lack of investigation in relation to these allegations."
Meanwhile, the ILO Committee of Experts on the Application of Conventions and Recommendations urged the Philippine government to investigate and punish those behind the attacks on unionists in its latest annual report in February 2022.
The report cited the alleged extrajudicial killing of 10 trade unionists; at least 17 cases of arrest and detention after a police dispersal, and raids on unionists' homes and offices from November 2020 to March 2021; 17 cases of "red-tagging" and harassment, including against leaders of the Alliance of Concerned Teachers, Kilusang Mayo Uno, Philippine National Police Non-Uniformed Personnel Association Inc. and other workers' organizations; and 12 cases of forced disaffiliation campaigns and seminars, including for public school teachers, beverage workers and palm oil plantation workers. (PNA)