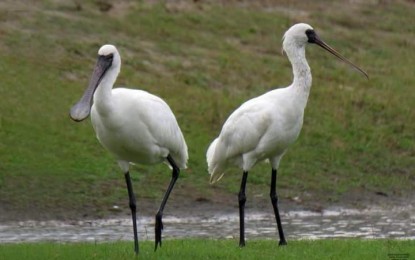 LAOAG CITY – Two globally endangered black-faced spoonbills (Platalea minor) have been spotted here this week.
Rhoel Marcelo, ecosystem management specialist of the Department of Environment and Natural Resources (DENR) in Ilocos Norte, on Tuesday showed to the media a photo of the birds with their long black spoon-shaped bills and faces covered in black skin instead of avian feathers.
"The spoonbill is the only species that has the most restricted distribution and the only one regarded as globally endangered," he said.
Marcelo said the photo of the spoonbill was taken by Richard Ruiz, a member of the Wild Bird Club of the Philippines based in this city.
Ruiz said he was monitoring a private fish pond in Barangay Gabu that is frequented by migratory ducks and birds when he noticed two larger birds that were mixed among a faraway flock of smaller Black-winged stilts.
The birder had previously spotted a mandarin duck, another sign of migratory birds going off their usual path.
"This [spoonbill] is one of the species that we are monitoring in the DENR. We are glad that someone was able to document it in the province," he said, adding that the birds might have come from Hong Kong or mainland China.
According to the Red List of the International Union for Conservation of Nature (IUCN), only less than 2,700 Black-faced Spoonbills remain worldwide. They are listed as endangered and one of the protected species in China, Taiwan, North Korea, South Korea and Japan.
Last Jan. 13, the DENR and the Wild Bird Club of the Philippines conducted the Asian Waterbird census at the Paoay Lake Natural Park in Ilocos Norte.
Based on the latest bird census, the Paoay Lake is frequented by a variety of bird species like the Little Grebe, Great Egret, Little Egret, Cattle Egret, Philippine Duck, Tufted Duck, White-browed Crake, Common Kingfisher, White-collared Kingfisher, White-throated Kingfisher and Great Cormorant.
This year, Marcelo reported that they were able to count 3,792 waterbirds from 22 species.
Compared to last year's 3,794, Marcelo said they were able to document new migrants this year such as the Brown Booby and the Cinnamon Bittern including a returning Whiskered Tern which was last recorded at the Paoay Lake wetlands in 2015 and 2016.
According to the DENR, the presence of waterbirds is one of the key indicators on whether wetlands, such as mangrove areas, are still ecologically healthy. (PNA)