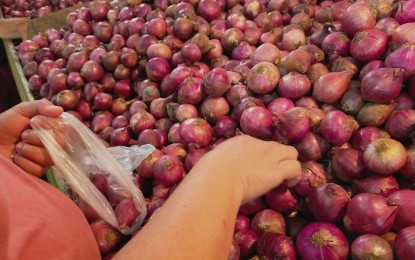 MANILA – Prices of white onions on Tuesday at the Agribusiness Development Center (ADC)-Kadiwa site in Quezon City has now dropped to PHP150 per kilogram.
This is PHP20 lower than the usual price of onions sold in Kadiwa stores, as other sites remain at PHP170/kilo.
The Department of Agriculture (DA) said the supply came from the Bonena Multipurpose Cooperative, which provided around 30 sacks of onions.
The price is in line with the DA's projected price range of PHP100/kilo to PHP150/kilo following the approval of importation before the peak harvest season.
Meanwhile, the prevailing price range of local red onions in Metro Manila remained at PHP320 to PHP450.
In an interview, DA deputy spokesperson Rex Estoperez said the cooperative expressed dismay over the earlier announced timing and volume of importation.
"According to them, they are against doon sa (to the) importation because of the timing… sinasabi nilang marami ngang pumapasok, even if hindi pa lusot 'yung off-season harvest. Ang peak harvest ata is mid-February until April, pa-continue sa May (They are saying there's high production volume coming in even if we are still in the off-season harvest. I think the peak harvest is from mid-February, up to April to May)," he said.
"Pero kung may pumapasok ngayon na sibuyas na from the farmers' side from producers' side, eh 'di better (But if the onions are coming in from the farmers and producers, then that's better)," he added.
Estoperez, however, reiterated that the imported volume of fresh yellow and red onions will be only 5,775 metric tons.
"Kasi ang darating na lang dun sa ating imported na inallow ay 5,000 metric tons lang. That's divided also in Luzon, Visayas, and Mindanao, so kakaunti lang naman 'yun (Because out of the allowed importation, only around 5,000 metric tons will come. That's divided into Luzon, Visayas, and Mindanao, so that's only low [volume])," he said.
The DA said that once the imported onions arrive in the country, a kilogram of onions is expected to go down to PHP100 to PHP150.
Onion purchase probe
The Ombudsman earlier announced its planned probe following onion procurement worth PHP537/kilo from the Bonena Multipurpose Cooperative but was sold at only PHP170/kilo in Kadiwa sites.
"We'll just wait for the formal charges kung meron man (if there's any), and the reply of the Ombudsman on our compliance for the order," said Estoperez.
On Monday, Food Terminal Incorporated (FTI) President Robert Tan during a Senate hearing denied any knowledge of the procurement, saying he was on leave during the selection period of the purchase.
Tan said the Office of the Ombudsman has already gotten in touch with him and that he has already responded to its questions in connection with the probe. (PNA)