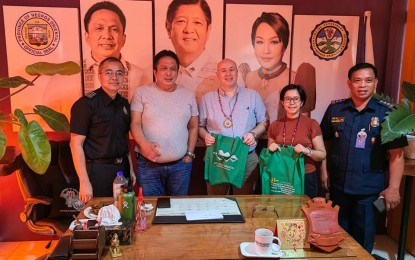 DUMAGUETE CITY – Negros Oriental Gov. Roel Degamo has assured key officials of the British Embassy in the Philippines of support and assistance whenever possible to Britons who are residing in the province.
Degamo met with Consul Neil James, Vice Consul Aileen Ilagan, and party during a courtesy visit at the capitol on Monday afternoon as part of the Consular Outreach Visit of the Foreign Commonwealth Development Office of the British Embassy.
Provincial Tourism Officer Myla Mae Bromo Abellana told the Philippine News Agency on Tuesday that embassy officials wanted to see what services are offered to foreign tourists and foreign nationals residing in the province.
"They asked to meet with us from the tourism office as well as officials from the health sector, the Disaster Risk Reduction and Management Office, the Department of Social Welfare and Development, and the Philippine National Police, to give them an idea of what can be offered especially to their nationals needing attention," she said in mixed English and Cebuano,
Negros Oriental has the largest number of British nationals outside of Luzon who hold different visas, Abellana said, quoting Peter Bueno, the head of the Bureau of Immigration in the province.
She said the foreign officials inquired about whether British nationals in "distress" may avail of assistance such as those provided by the DSWD.
Degamo said there are certain types of government assistance limited only to Filipinos, but he reassured the embassy officials that the province will do its best to provide whatever help is available to a foreign national in need, she added.
The British consul told the governor that in certain cases where their citizens need help, their government will help that person return to the United Kingdom by providing airfare on a loan basis, Abellana said.
The UK officials visited local hospitals and met with British nationals on Monday evening at a hotel in this capital, and left for Siquijor on Tuesday, she added. (PNA)