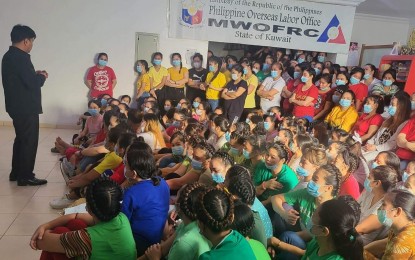 MANILA – The Department of Migrant Workers is looking for a new location to accommodate distressed Filipino workers in Kuwait after officials discovered the unhealthy living conditions at the Migrant Workers and Other Overseas Filipinos Resource Center (MWOFRC).
DMW Secretary Susan Ople was dismayed after a virtual tour conducted by a DMW overseas staff of MWOFRC, otherwise known as Bahay Kalinga (Haven of Care), according to Undersecretary Hans Cacdac.
Ople is part of the presidential delegation to Davos, Switzerland for the World Economic Forum.
Over the weekend, Ople sent Cacdac and Overseas Workers Welfare Administrator Arnell Ignacio to Kuwait to check on the overseas Filipino workers (OFWs).
The DMW team also met with Kuwaiti authorities for the speedy processing of the documents to be able to bring home at least 300 of the more than 400 OFWs within two weeks.
Cacdac and 40 OFWs arrived on Tuesday while Ignacio was hoping to bring along another 100 on Wednesday.
"Based on our ocular inspection, the current place is not conducive to the good health and comfort of our workers. The Secretary also gave instructions that the new shelter should have enough room for learning sessions that can be offered to residents on financial literacy, mental wellness, and TESDA (Technical Education and Skills Development Authority) courses for skills upgrades," Cacdac said in a news release.
Cacdac added that DMW is working to upgrade the facilities at government-run shelters so they will truly become a haven of care for distressed OFWs worldwide.
Social Welfare Attaché Bernard Bonina, who has been transferred to the DMW from the Department of Social Welfare and Development, was tasked to look after the Kuwaiti OFWs.
"Our goal is to reduce the number of welfare cases in Kuwait in partnership with the private sector and Kuwaiti government while bringing home and assisting as many distressed OFWs as possible," Ople said in a statement. (PNA)