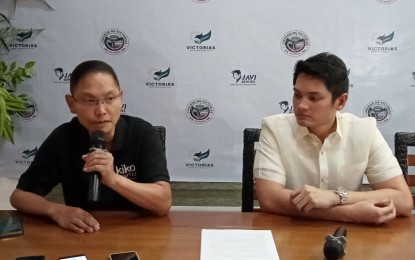 BACOLOD CITY – The City of Victorias in Negros Occidental province has received PHP55 million from the national government's Local Government Support Fund for the construction of an evacuation center this year.
Mayor Javier Miguel Benitez said the amount has already been downloaded to the City Treasurer's Office in the first week of January.
"We're very thankful. It will be an evacuation center and a multi-purpose hall so it can be also be used during non-evacuation time," he said in a press briefing on Monday night.
It is one of the initiatives under the Project Vector or Victorias Emergency Crises Tactical Operations Response presented by Benitez in his first six months' report held earlier in the afternoon at the city's arts and cultural center.
"We're still finalizing the design. We're ready for area identification. The groundbreaking will be held during the first quarter," he added.
Benitez said Project Vector is the primary program in the city government's six-point agenda for a disaster-resilient community.
He added that this will not only include material and software applications, but also a series of initiatives such as training on disaster response, evacuation plans, and provision of useful information that can be downloaded to the barangays.
Also, a PHP145-million flood control and foreshore protection project will be constructed in Barangays 6-A and 9, which are among the most flood-prone areas in the northern Negros city.
"We are already done with the bidding process and we are just waiting for the schedule of the groundbreaking. This project will have a big impact on the people's health and the economic activity once these areas are already safe from floods," the mayor said. (PNA)