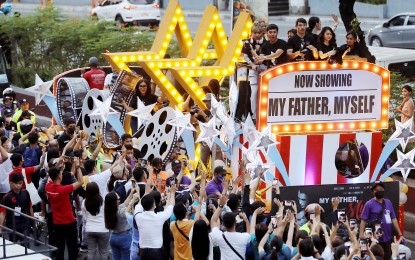 MANILA – Pangasinan 4th District Representative Christopher De Venecia, House Special Committee on Creative Industry and Performing Arts chair, is planning to refile a measure that would aid the film and events industries in recovering from revenue losses due to the coronavirus disease 2019 (Covid-19) pandemic through the grant of tax exemptions and subsidies.
De Venecia made the commitment on Tuesday during the panel's hearing on House Resolution 451, assessing the plight of Philippine Cinema, with the intention of promoting more film productions to generate employment and reviving its renaissance and golden era.
"We're waiting on some data points from some of our resource persons that were committed this morning to be able to guide us in crafting the necessary bill that we are going to file that would help the industry in terms of reducing some of the taxation," De Venecia said.
He particularly noted the plan to refile the proposed "Film and Live Events Recovery Act," which would provide for an additional two years of tax holiday and reduction of amusement tax from 10 to 5 percent.
"In terms of the amusement tax, right now it is at 10 percent. It is not being charged by all of the LGUs (local government units). Thankfully, that is a prerogative. So we are refiling the bill for a tax holiday for additional two years and reducing it to 5 percent," he said.
Committee vice-chair and Leyte 4th district Representative Richard Gomez also stressed the need to provide more incentives for the country's film producers considering that the industry is "burdened with so much taxes".
"The basic gist is to make it cheaper and more affordable for film producers to make more films," Gomez, an actor, said.
The proposed measure also suspends for two years the power of local government to levy an amusement tax as provided under RA 7160.
The measure seeks to exempt from payment of amusement tax all locally-produced operas, concerts, dramas, musical plays, recitals, painting and art exhibitions, flower shows, musical programs, literary and oratorical presentations and local film productions so long as Filipinos own at least 10 percent equity of such local entertainment productions.
The panel also discussed ways to boost the industry by advancing programs that provide assistance to its workers, as well as reinforcing policies that promote their welfare.
Department of Trade and Industry (DTI) Competitiveness Bureau Assistant Director Jo-Dann Darong said among the challenges of Philippine Cinema the past three years were the constrained movie production process and the hampered performance of the Metro Manila Film Festival due to lockdowns.
He, however, noted that the pandemic gave elbow room for market expansion through digital platforms.
For his part, Film Development Council of the Philippines (FDCP) Chairperson Tirso Cruz III discussed their initiatives that offer assistance to filmmakers and producers, such as cash grants, mentoring sessions with experts and assistance in securing permits.
Meanwhile, the committee adopted House Resolution 609, congratulating and commending Ian Fermin Rosales Casocot for winning first prize in the Short Story Category of the Carlos Palanca Memorial Awards for Literature.
The panel also adopted HR 636, commending Cecile Guidote-Alvarez for being the only Southeast Asian awardee at La MaMa Theater's 'Remake-a-World' Gala in New York City, and HR 653, expressing profound congratulations to Dolly De Leon for winning the Los Angeles Critics Awards Best Supporting Actress for her role as toilet manager in "Triangle of Sadness" and for being the first Filipino to be nominated for Golden Globe Best Supporting Actress for the same role. (PNA)