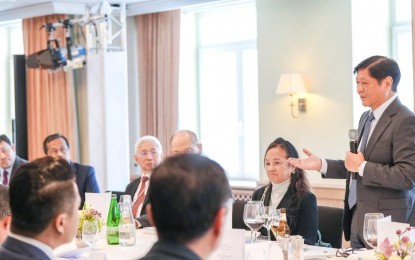 MANILA – The government's policies and initiatives have paved the way for the Philippines' economic rebound, allowing its partners and investors to enjoy a more conducive business environment, President Ferdinand R. Marcos Jr. said on Tuesday.
During the Country Strategy Dialogue at the World Economic Forum (WEF) in Davos, Switzerland, Marcos presented the current state of the Philippine economy and the opportunities that are expected to be unlocked.
Marcos, in his opening remarks, cited that while the International Monetary Fund's (IMF) forecast for the 2023 global economic growth is only 2.7 percent, the Philippines projects that its economy would grow by at least 7 percent this year.
The IMF's latest projection is slower than the 3.2 percent posted last year and shows a significant decrease from the 6 percent recorded in 2021.
"Our strong macroeconomic fundamentals, fiscal discipline, and structural reforms instituted over the years have enabled us to withstand the negative shocks caused by the pandemic and succeeding economic downturns and map a route toward a strong recovery," he said.
Marcos said the Philippines remains focused on sustaining the country's economic recovery, as well as promoting a local environment that would help businesses maximize their competitiveness and facilitate their entry into the global market.
He added that the Philippines' development plan puts together coherent strategic measures to address the current energy and food crises, allowing the country to hasten its economic and social recovery toward inclusive and resilient development.

Addressing challenges
In his speech, Marcos also emphasized the need for the world economies to implement sufficient welfare measures to cushion the impact of elevated inflationary pressures, especially on the most affected and vulnerable sectors.
"We have seen inflation accelerating globally in recent months. While protectionist policies may be appealing in the short term, there will ultimately be no winners," he said.
"We support the call for all governments to unwind any trade restrictions and reinforce our commitment to the World Trade Organization (WTO) reform."
Marcos also renewed the Philippines' support for the timely and effective delivery of pragmatic outcomes to address the current geopolitical risks, adding that economies should try to find a common ground to settle critical global issues.
He likewise emphasized the importance of economic and technical cooperation to assist the development of smaller economies and enable their participation, including the small businesses and economic segments with untapped potential, in the global economy.
Marcos said it is also vital to address the current social vulnerabilities, noting that education, skills development, and lifelong learning would help enhance the employability of workers.
Government interventions and public-private partnerships (PPPs), he said, must be strengthened to improve access to employment opportunities, adding that health systems and social protection must also be enhanced to abate and mitigate present and future risks.

Digitalization
Marcos also acknowledged the need to pursue heightened collaboration to realize economic and social transformation.
He believed that his bid for digital transformation is a "key driver for long-term economic growth."
"The government also recognizes the importance of digitalization as a key driver for long-term economic growth and as a tool for economic recovery," Marcos said, adding that he would put a premium on the participation of micro, small and medium enterprises (MSMEs) in the digital economy.
"We will deploy digital connectivity across the Philippines and ensure universal connectivity, particularly in geographically isolated and disadvantaged areas," he added.
Investment pitch approved
In another event with the world's top chief executive officers (CEOs) and investment experts, Marcos received "very positive" feedback when he made an investment pitch for the Philippines, Communication Secretary Cheloy Garafil said.
"President Ferdinand R. Marcos Jr.'s investment pitch for the Philippines received 'a very positive response' from some of the world's top CEOs and investment experts during a dinner hosted for him by Grab Chairman and CEO Anthony Tan at the sidelines of the World Economic Forum (WEF) in Davos, Switzerland," Garafil said in a separate statement.
She noted that some of those who graced the dinner hosted for Marcos were Amazon CEO Andy Jassy; Tiktok founder Zhang Yiming; Affinity Partners founder Jared Kushner; Economist Editor-in-Chief Patrick Foulis; Unilever CEO Alan Jope; General Atlantic CEO Bill Ford and his wife Molly Ford; BlackRock's Head of Asia Rachel Lord; and Heineken CEO Dolf van den Brink.
Also present were Indonesia's Minister of Investment Bahlil Lahadalia; Indonesia's Coordinating Minister of Maritime and Investment Affairs Luhut Pandjaitan; ID New Capital City Authority chairperson Dr. Bambang Susantono; Thailand Minister Arkhom Termpittayapaisith; KADIN chairperson Arsjad Rasjid; former United Kingdom prime minister Tony Blair; and Transportation Secretary Jaime Bautista.
House of Representatives Speaker Martin Romualdez, who also joined the dinner, said attendees were "excited" about the Philippines' recovery story and agreed that the country is the "future investor haven for western capital."
In an interview in Switzerland, Alliance Global, Inc. CEO Kevin Tan said Marcos' participation in the WEF signifies the Philippines' openness for business and gives the country a platform to tell the world about its growth story.
"I believe President Marcos has been very effective in showcasing the Philippines... our strength. But also showcasing that this government is open for business and open to partnerships with other governments, but as well as with partnerships with (the) private sector and that we are here trying to bring in really foreign investments," he said.
"On a political front, I think also my view is that the President has really shown that the Philippines really is a friend to all, and we're not necessarily leaning more towards the West or the East, that we're very, very balanced in where we are positioned. And I think that's the right strategy because, you know, our location as a country is so strategic."
Aboitiz Group president and CEO Sabin Aboitiz also lauded Marcos' economic vision for the country.
Aboitiz, who also serves as lead convenor of the Private Sector Advisory Council, said the Philippine private sector is willing to partner with the big and best businesses overseas to realize the country's goals, considering the huge amount of money needed for the Marcos administration's ambitious infrastructure projects, such as roads, ports, and airports.
"So when you have that dual type of respect for each other, it excites people and the President's belief in the private sector is very strong," he said. "So we're gonna need a lot of the funds to come in to the agriculture. So we're gonna need a lot of the funds and the expertise from countries around the world." (PNA)