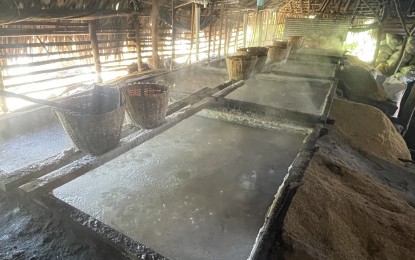 MANILA – The Senate Committee on Agriculture is now pushing to amend Republic Act 8172, or An Act for Salt Iodization Nationwide (ASIN), seeking to revive the country's salt industry.
According to Senator Cynthia Villar who chairs the committee, the law should not require all local producers to iodize salt as most of the demand are being used as fertilizers by farmers and not for food consumption.
During a hearing conducted by the committee on Wednesday, Villar said the law, which was passed in 1995, became a deterrent in the development of the local salt industry instead of promoting it.
"It has neglected to develop new areas and invite new investors. It made all salt food grade. In 2021, it was reported that, we only produced seven percent of our salt requirements and imported 93 percent or 550,000 metric tons," she noted.
Villar recalled that in the 1950s, the Philippines' salt industry boomed as new fishponds and salt farms were constructed in the provinces of Pangasinan, Bulacan, Occidental Mindoro, Cavite, Paranaque City, Negros, Cebu and other provinces.
"Salt producing areas in the Philippines, reached an estimated peak of 5,000 hectares nationally, producing an estimated 240,000 metric tons annually. This boom in growth supported a growing population and the development of the salt industry in the 1960s and 1970s.
One of the measures discussed in the hearing was Senate Bill No. (SBN) 1450 or An Act Promoting and Revitalizing the Salt Industry of the Philippines filed by Senate Majority Joel Villanueva, which seeks to amend the ASIN Law.
Villanueva said the bill seeks to revive the local salt industry, increase the productivity and income of local salt producers, preserve the country's local and traditional production techniques, and promote Philippine artisanal salt, among others.
"We have an enormous, untapped, and neglected resource that could change the lives of about 60 percent of our total population, who live in coastal zones. Aside from the urgency of addressing the needs of the industry, it is also significant to this representation since our home province of Bulacan is the third largest producer of salt, next to Pangasinan and Occidental Mindoro," he said.
The ASIN Law was projected to protect and promote the health of Filipinos, to maintain an effective food regulatory system, and to provide the entire population, especially women and children, with proper nutrition.
It sanctions offenders who violates any of its provisions or promulgated rules and regulations by a fine of not less than PHP1,000 to not more than PHP100,000, and the revocation of its business permit and/or ban of its product from the market. (PNA)