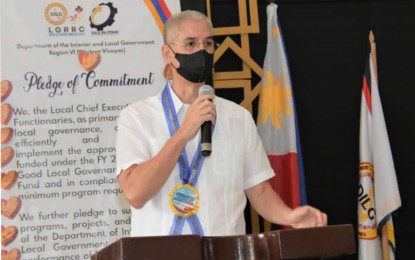 BACOLOD CITY – Six cities and a municipality in Negros Occidental province, all recipients of the 2022 Seal of Good Local Governance (SGLG), have been awarded a total of PHP47 million in incentive funds by the Department of the Interior of Local Government (DILG).
During the distribution of symbolic checks held at the Provincial Capitol Social Hall here on Tuesday afternoon, the cities of Bago, Himamaylan, Sagay, San Carlos, Silay and Talisay each received PHP7 million while the municipality of Hinobaan got PHP5 million.
A list on Wednesday showed that Bago will use the SGLG Incentive Fund (IF) for fisheries post-harvest facilities; Himamaylan, acquisition of motor vehicles for four city departments and offices; Sagay, construction/improvement of sidewalk; San Carlos, concreting of a road in Barangay Codcod; Silay, construction of overflow bridges with roads; Talisay, additional electric street lights; and Hinoba-an, installation of renewable energy-based street lighting.
Provincial Administrator Rayfrando Diaz II said that based on the guidelines of the DILG, the recipient local government units (LGUs) should utilize the funds for the approved projects before the end of the year.
In a statement, Governor Eugenio Lacson acknowledged the recipient LGUs for their hard work, efficiency, and dedication to result-oriented public service as well as their commitment to promoting transparency and accountability in government.
"Your sterling leadership serves as an inspiration to everyone and is proof of the positive impact that one effective leader can have on his office and constituents," he added.
During the awarding rites, the local chief executives and their representatives signed the pledge of commitment for efficient and effective implementation of the approved projects funded under the 2022 SGLG IF and support the programs, projects and activities of the DILG.
The incentive, which can be utilized to support local development projects identified as a priority in the locality and reflected in the Annual Investment Program and Local Development Investment Program, is granted to the LGU awardees along with the SGLG marker.
In a separate statement, DILG-Western Visayas Regional Director Juan Jovian Ingeniero said once the recipients can complete the documentary requirements, the turnover of the funds will be immediately scheduled as a reward for the exceptional performance and quality public service of these LGUs.
Previously known as the Performance Challenge Fund established in 2010, the SGLG IF is an incentive given as a financial grant to eligible LGUs under the DILG's Local Governance Performance Management Program.
The SGLG, as provided in Republic Act 11292, otherwise known as the SGLG Act of 2019, serves as a performance-based reform program of the DILG.
"Our hope in the DILG is that you continue promoting excellence in local governance and continue aiming for the SGLG seal," said DILG-Negros Occidental Provincial Director Teodora Sumagaysay. (PNA)