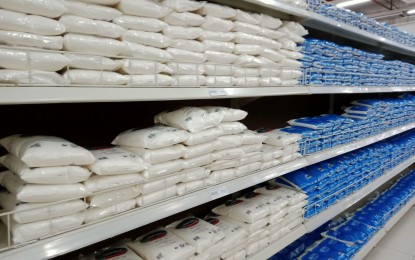 MANILA – The Sugar Regulatory Administration (SRA) said Wednesday it has drafted its import recommendation of an estimated 450,000 metric tons of sugar.
In a radio interview, SRA Board Member Pablo Luiz Azcona said they are continuously collaborating with stakeholders to discuss the suggested import plan.
"We already drafted our recommendations to Malacañang, and then we are just awaiting instructions of the Malacañang if our suggestions or recommendations are okay," he said in mixed English and Filipino.
"...An importation of around 450,000 (metric tons), 'yun yung estimate. But 'yung importation na 'yun includes 'yung gusto ni presidente na may buffer (that's the estimate. But the importation includes what President [Ferdinand R. Marcos Jr]) wants, including the buffer [stock])," he added.
Azcona noted that this target import volume would be opened even for domestic or retail use.
"Kasi pro-farmers talaga 'yung presidente natin. Okay magpasok tayo ng asukal, for retail. So, talagang makikinabang si consumer. 'Pag tama naman po 'yung schedule na ginawa ng presidente, hindi naman mafi-feel ni farmer (our president is really pro-farmers. Okay, let's allow entry of sugar for retail. So the consumers shall really benefit. And if the president made a proper schedule, the farmers would not feel it)," he said.
Even industrial bodies can buy supply for the consumers' market and that proper import timing is relevant for farmers, considering their milling season which starts from October until May.
"As a planter representative, our farmers, they are never against importation, 'yung hinihingi lang parati ng farmer, kung pwede 'yung dating po ng asukal is after milling na po (What the farmers are often asking is if the sugar must-arrive can be after the milling), after harvest," he said.
As of now, the SRA said local farmers can produce up to 1.813 million metric tons of sugar this year.

High input cost
The SRA also mentioned that the previous importation of 150,000 metric tons of sugar has been completed.
Asked if the planned importation would help lessen market prices, Azcona said the SRA has no control over businessmen.
"Kahit PHP60 dito sa farmgate atsaka presyuhan ng retail na PHP90, PHP100, walang magagawa 'yung SRA po (Even if the farmgate is PHP60/kilogram then the retail price is in PHP90, PHP100, the SRA can do nothing)," he said.
However, he noted that a PHP60 farm-gate price gives allowance to farmers which have suffered from the high input costs.
"Bakit po 'yung mga farmers natin happy sa PHP60? Kasi 'yung cost ng farmers ang laki ng tinaas compared to last year (Why are farmers happy in PHP60/kg? Because the [input] cost of farmers is so high compared to last year). That's why I think it's all petroleum-based," he said.
Farmers faced doubled costs of fuel and tripled prices of fertilizers following the Ukraine and Russia conflict.
"'Yung kita ng (the profit of) farmers is PHP28,000 to PHP56,000 a year per family," he said.
To date, the prevailing market price of refined sugar in Metro Manila ranges from PHP90 to PHP110/kilo, PHP85/kilo to PHP95/kilo for washed sugar, and PHP80/kilo to PHP95/kilo for brown sugar.

Smuggled sugar
The SRA, meanwhile, assured it is ready to comply once a go signal is given, for the selling of the alleged smuggled sugar in Kadiwa markets.
"The SRA will do every instruction of BOC (Bureau of Customs) and DA (Department of Agriculture) to expedite everything to use the sugar if they decide to do so," Azcona said in mixed English and Filipino.
However, refined sugar still needs to undergo sanitary and phytosanitary test.
Authorities earlier seized the shipment of 4,000 metric tons of refined sugar in Batangas from Thailand. As of now, the seized sugar is still under the custody of BOC, according to the SRA. (PNA)