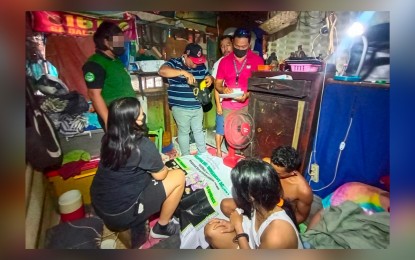 CEBU CITY – Operatives of the Philippine Drug Enforcement Agency in Central Visayas (PDEA-7) on Tuesday night arrested six suspected drug personalities during simultaneous operations in barangays Pasil and Suba here.
The operations also resulted in the confiscation of PHP1,067,600 worth of suspected shabu and the rescue of three minors who were found at one of the vicinities raided by the agents.
Levi Ortiz, PDEA-7 regional director, said the agents dismantled a drug den reportedly maintained by one Clifford Gonzales in Sitio Concepcion, barangay Pasil.
Gonzales' runner, Jurie Abaño, 21, was arrested while 10 grams of suspected shabu estimated to be worth PHP68,000 were seized during the operation.
Three male, aged 13, 14 and 17 who were inside the drug den, were rescued.
Almost simultaneously, in Sitio Mahayahay II in the same barangay, anti-drug operatives arrested 49-year-old Rodelia De Aquino after yielding two packs of suspected shabu weighing around 50 grams valued at PHP340,000 during a buy-bust.
In the same sitio, authorities nabbed Maria Loreto Odango, 49, and recovered from her five packs of suspected shabu weighing around 85 grams with an estimated market value of PHP578,000 and other paraphernalia.
At Block 7 of the adjacent village of Suba, another drug den was raided which led to the arrest of Maria Cristina Sacramento,46; Ronald Gonzaga Maano, 31, and Jesus Bisin Arapol Jr., 37.
The agents seized seven packs of suspected shabu weighing around 12 grams with an estimated market value of PHP81,600, buy-bust money and assorted drug paraphernalia.
Ortiz said the pieces of drug evidence have been submitted to the PDEA-7 laboratory for chemical analysis.
He said the suspects will be charged with the violation of Article II of the Republic Act 9165 or the Comprehensive Dangerous Drugs Act of 2002 while the minors have been turned over to the Department of Social Welfare and Development. (PNA)