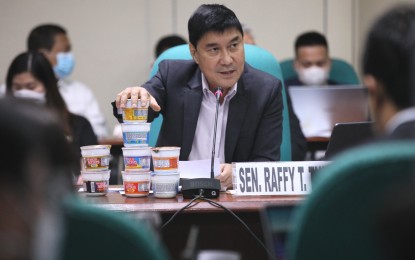 MANILA – Another bill establishing evacuation centers in 146 cities and 1,488 municipalities nationwide was filed before the Senate, this time by Senator Raffy Tulfo.
In his Senate Bill No 1652, or An Act establishing evacuation centers nationwide, Tulfo said the centers must have basic facilities, accessible location and adequate emergency supplies, such as water, medicine and relief goods considering that the Philippines is one of the most typhoon-prone countries in the world.
"When disaster and calamities strike, covered courts, gymnasiums, schools, and even churches serve as evacuation areas to shelter affected residents and families, These areas are jam-packed when the situation worsens. Diseases; existing and unforeseen may also spread because these areas do not meet standard measures for a proper and well-ventilated evacuation center," the bill's explanatory note read.
Last August, Senator Sherwin Gatchalian filed Senate Bill No 940, or the Evacuation Center Act", which seeks to establish evacuation centers in all cities nationwide.
Tulfo said some 19 to 20 typhoons enter the Philippine Area of Responsibility yearly, with 7-9 making landfall, according to Climate Change Knowledge Portal for Development Practitioners and Policy Makers.
Under Gatchalian's measure, each location for every evacuation center shall be determined by the Department of Environment and Natural Resources, in close coordination with the local government units (LGUs) concerned and must be centrally located in the community.
It must also be in a safe distance from large trees and structures with hazardous materials, must be near a health facility, must be located on geotechnically stable land and must not be located near military base camps and camps of insurgent groups.
Its structure must also be calamity-resilient and built with sturdy materials, and must have the capacity to accommodate a large number of evacuees.
It mandates the LGUs concerned to be primarily responsible for the operation, supervision, and management of evacuation centers and the local sanggunian (council) shall promulgate guidelines and procedures for the use and operation of the evacuation center under its jurisdiction. (Leonel Abasola/PNA)