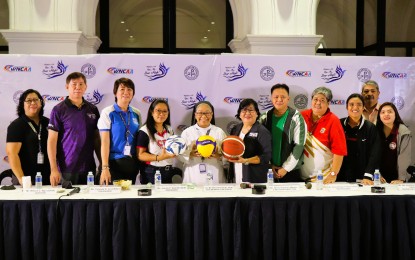 MANILA – The 53rd edition of the Women's National Collegiate Athletic Association (WNCAA) will kick off on Jan. 21 with the volleyball competition at the St. Cecilia Hall in St. Scholastica's College Manila.
St. Scholastica's College Manila will face Saint Jude Catholic School at 1 p.m. to be followed by the match between Assumption Antipolo and Miriam College at 2:30 p.m.
The opening ceremony scheduled at 10 a.m. will feature the parade of athletes, message of WNCAA President Juanita Alamillo of Centro Escolar University as well as the presentation of the league's Executive Board members for 2022-2023 and awarding of the 52nd season winners.
"This is the 53rd season of WNCAA, the only tri-level league for women in the country. But this season is different, we will not have the midget's division, this is to be added to the history of the league. For the first time, no midgets playing. They will just be here to cheer for their big sisters," WNCAA Executive Director Maria Vivian Manila said in a press conference at St. Scholastica's College Manila Social Hall on Wednesday.
She said the league did not allow the pandemic to stop its mission for women's sports.
"Thanks to our social media platforms, we were able to celebrate our 52nd season through virtual skill competitions in basketball, volleyball, futsal, cheerleading and chess. All winners will be awarded during the opening ceremony," Manila said.
"We will unfold the 53rd season and we are happy to see WNCAA players competing face-to-face after two years. A big adjustment to many of our players, they will compete in basketball, volleyball and futsal -- the first sports events that will be opened. Other events like table tennis, badminton, poomsae taekwondo, swimming and lawn tennis will be done through a sportsfest style, while cheerleading or cheerdance will be our last event," said Manila, who thanked Sonia Trading for providing the competition balls.
This year's theme, "[email protected]: Rise... Fly... and Soar High!, is inspired by St. Scholastica's College Manila's battle cry "Rise. Fly. Soar." which embodies the Scions - referring to the school's varsity team - represented by a phoenix rising from the ashes.
After the press conference, the members of the 53rd WNCAA Season 2022-2023 Executive Council took their oath before St. Scholastica's Manila president, Sr. M. Christine Pinto, OSB.
The Executive Council is composed of Alamillo, Arvin Anthony Flores of La Salle College Antipolo (vice president), Ma. Angelica Dela Cruz of San Beda College Alabang (secretary-general), Yolanda Co of Chiang Kai Shek College (treasurer), Wilson Ngo of St. Stephen 's High School (auditor) and directors Jemima Katrina Fajardo of the University of Asia and Pacific, Ronna Servañez of Philippine Women's University and Lilian Cristobal of St. Scholastica's College Manila.
Other participating schools in the WNCAA are De La Salle-Santiago Zobel School, St. Paul's College Pasig, Assumption College San Lorenzo and University of Makati. (PNA)