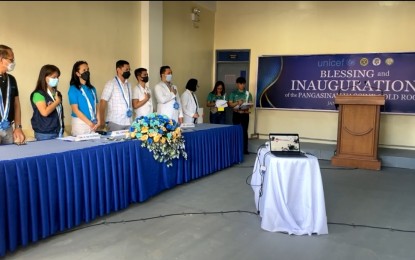 SAN CARLOS CITY, Pangasinan – The newly-inaugurated vaccine cold room facility at the Pangasinan Provincial Hospital (PPHO) here is expected to further strengthen the inoculation efforts of the provincial government, officials reported Wednesday.
In her speech during the inauguration and blessing on Wednesday, Dr. Marie Lynn Fama, PPH officer-in-charge, said the facility is a project of the United Nations International Children's Emergency Fund (UNICEF), the Department of Health (DOH) and the provincial government as the recipient.
"This is to strengthen vaccine management quality. In the contract, this will allow us to immunize and protect every child in the corners of Pangasinan. However, let's not forget that vaccine-preventable diseases are not only for children but also for the vulnerable sectors," she said.
DOH provincial health team leader, Dr. Veronica De Guzman, said the facility will house the first-ever walk-in cold room for the provincial government and will cater the entire province.
She said the facility has a capacity of 4,928 liters or 190,000 vials of vaccines.
"Vaccines require cold chain management to ensure potency. This will increase provincial capacity in delivering vaccine capacity," she said.
De Guzman added that this is timely with the upcoming Ligtas Tigdas immunization program of the DOH in May wherein measles, rubella, and oral polio vaccines will be administered to children.
UNICEF immunization specialist, Dr. Carla Orozco, said the facility will not only store coronavirus disease 2019 vaccines but also vials for routine immunization.
She added that the country currently has nine cold rooms and one of them was set up in Pangasinan due to the province's output in the recent immunization program against the virus.
Pangasinan has inoculated over 2.2 million of its population.
Vice Governor Mark Lambino thanked the different national and international agencies for the project.
He added that this would all the more challenge the province to perform better in the upcoming inoculation programs. (PNA)