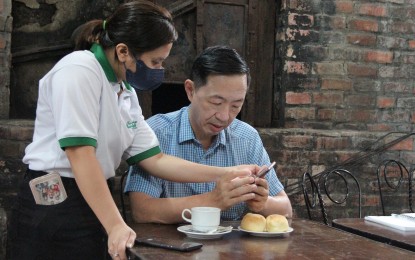 MANILA – The Department of Information and Communications Technology (DICT) is looking to boost the registration of subscriber identity module (SIM) cards in remote areas through the National Bureau of Investigation (NBI) clearance one-stop-shops.
During the "Sulong SIM Registration" online conference on Wednesday, DICT spokesperson Undersecretary Anna Mae Yu Lamentillo said an NBI clearance can be used by those that lack a valid government-issued ID to register their SIM card.
"[We] requested the DOJ (Department of Justice) to set up a one-stop-shop in remote areas so the public can secure their NBI clearances," Lamentillo said.
The DICT and DOJ, she said, are part of an Inter-Agency Ad Hoc Committee that would facilitate SIM registration in remote areas.
"We are already working on the guidelines and we will finalize this soon so we can already rollout the registration in GIDAs (geographically isolated and disadvantaged areas)," she said.
Other members of the Ad Hoc committee are the National Telecommunications Commission (NTC), the Department of the Interior and Local Government (DILG), Department of Education (DepEd), Philippine National Police (PNP) and Armed Forces of the Philippines (AFP), among other government agencies and private telecommunications entities (PTEs).
For more help in SIM registration, she called on the public to reach out to Hotline 1326 under the Cybercrime Investigation and Coordinating Center (CICC).
She noted that calls for assistance on SIM registration have steadily dropped, from 109 complaints during its first week and went down to 46 on the second week.
"This is also because of the ongoing efforts of our PTEs to increase the capacity of their websites and continuously improve the process," she said.
According to the latest tally of the NTC, a total of 21,782,509 SIM cards have so far been registered—making up 12.89 percent of the country's total 168,977,773 active mobile users.
SIM registration is set to end on April 26, with unregistered SIM cards to be deactivated beyond this period. (PNA)