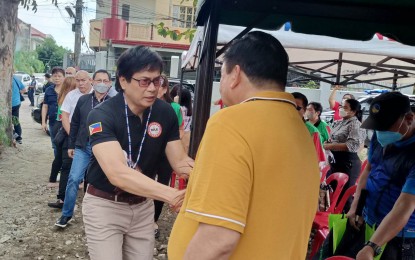 ILOILO CITY – Iloilo City needs at least 1,000 more police officers for its 500,000 residents to meet the 1:500 police-to-population ratio.
"Here in Iloilo we provide police cars, we even provided the police with their firing range, firearms and ammunitions, canine. We have so much support for our police," Mayor Jerry Treñas in an interview on Wednesday, noting that they lack warm bodies.
He said he will request more police officers from the Department of the Interior and Local Government Secretary Benjamin "Benhur" Abalos Jr. to beef up the number of law enforcers.
Annually the city government allocates a minimum of PHP50 million to PHP60 million for various support to the local police.
Treñas said he is not satisfied with the performance of the local police in the fight against illegal drugs even as he called on them to join hands with village officials, especially since barangay anti-drug abuse councils are active in the campaign.
The mayor on Wednesday gathered the barangay captains to meet with Abalos for a briefing on the anti-drugs drive.
Abalos was in the city to turnover PHP20 million worth of projects to Barangay Dungon B in Jaro district under its Support to Barangay Development Program.
"I think it is incumbent upon us local chief executives, including the barangay captains, to help in the anti-drugs program of Secretary Abalos," Treñas said.
Over 50 percent of the city's 180 villages are cleared of illegal drugs.
Apart from their active participation in the anti-drug campaign, the mayor is asking policemen to be extra vigilant this Dinagyang Festival season since there will be a lot of visitors in the city. (PNA)