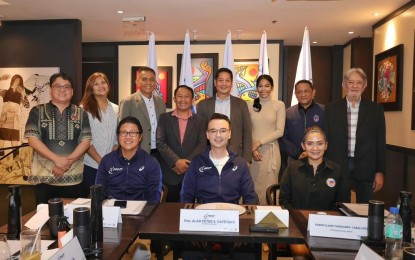 MANILA – The Philippine National Volleyball Federation (PNVF) has once again named Senator Alan Cayetano as its chairman emeritus.
Cayetano, the federation's first chairman emeritus, was given a fresh mandate during the organization's elections on Tuesday in Taguig City.
Cayetano's new tenure with PNVF will last until 2025.
"Thank you so much for the trust and confidence, and for the small part you have given me in the PNVF. Let's look forward again to 2023 and further," Cayetano said.
Cayetano is not new to working with reelected PNVF president Tats Suzara as they led the way in the Philippine Southeast Asian (SEA) Games Organizing Committee in 2019.
Following the success of the SEA Games hosting, Cayetano hopes that the reunion will mean greater success for volleyball in the years to come.
"Through the leadership of PNVF President Ramon 'Tats' Suzara, our newly-elected PNVF officers, and through God's guidance, we are claiming more years of victories for the Philippine Volleyball Federation," he added.
Cayetano, once known as the "godfather of Philippine women's volleyball", was also named the delegation head for the Philippine volleyball teams to the 2023 SEA Games in Phnom Penh, Cambodia this May.
He hopes that more people and companies will throw their support to the national teams.
"It will be a very busy year for our athletes, and their success will require the support of our government and our kababayans," he said. "To Chairman Ariel Paredes and to our volleyball athletes, please know that in the Senate, you can count on me and Ate Pia (sister Sen. Cayetano) to help our volleyball athletes soar higher and make the sport greater." (PNA)