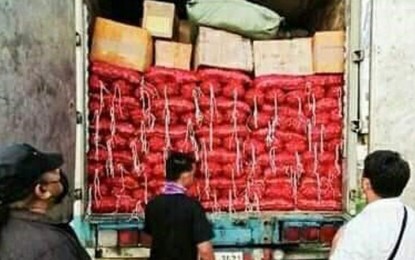 MANILA – A party-list lawmaker on Wednesday appealed to the Department of Justice (DOJ) to task the National Bureau of Investigation and a panel of prosecutors to go after the economic saboteurs who manipulate the prices and supply of any farm produce.
Bagong Henerasyon Party-list Representative Bernadette Herrera said the DOJ should build solid cases that are "fool-proofed against technicalities and excuses" and send the economic saboteurs to jail because they have "inflicted great suffering" on millions of Filipinos and have adversely impacted the economy.
"We have to go beyond raids on warehouses. We need paper trails, electronic trails, protected witnesses and convictions," Herrera said.
She emphasized the need for tough administrative penalties and stiff fines to at least temporarily shut them down while their cases are pending.
"Some of these heartless saboteurs would try to blame external factors, that other countries are also experiencing the same problems. They would even blame the pandemic," she said.
"But these wild fluctuations in prices and supply of agricultural products have happened time and again despite the many laws meant to curb economic sabotage—situations which have led many to suspect that the economic saboteurs operate outside and within the government agencies that are supposed to thwart the saboteurs," she added.
President Ferdinand R. Marcos Jr. has sought the assistance of the private sector amid his plan to intensify the fight against rampant smuggling in the country.
Marcos, in a meeting with the Private Sector Advisory Council (PSAC) at Malacañan Palace in Manila last Thursday, lamented that the present system is "not working," despite efforts to curb smuggling.
"To be brutally frank about it, we have a system but they are not working. The smuggling here in this country is absolutely rampant. So it does not matter to me how many systems we have in place, they do not work," he told PSAC, as quoted by the Presidential Communications Office (PCO). "So we really have to find something else. We cannot continue to depend on these systems, which have already proven themselves to be quite ineffective."
Marcos said concerned government agencies must step up and be "more innovative" to address rampant smuggling, according to PCO Secretary Cheloy Garafil in a statement.
Garafil said Marcos emphasized the need to delineate the government's functions or establish new agencies, if needed, to become effective.
The Chief Executive, she said, particularly wants reform in the bureaucracy to curb smuggling, reduce logistics costs, and ensure ease of doing business as his government works to prop up investments and business activity in the country.
Marcos acknowledged that issues on the ease of doing business and the inefficiency of the country's airports and seaports are the "major complaints" he is receiving from the business sector, Garafil added. (PNA)