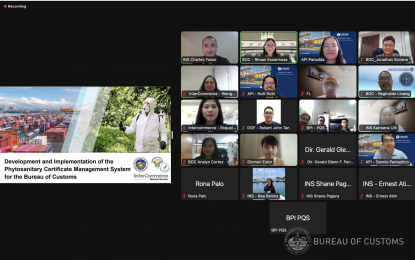 MANILA – Two government agencies have started a dialogue aimed at facilitating the Philippines' participation in the cross-border exchange of the electronic phytosanitary certificate (e-Phyto) among member states of the Association of Southeast Asian Nations (ASEAN).
The Bureau of Customs (BOC) and the Department of Agriculture - Bureau of Plant Industry (DA-BPI) participated in the virtual kick-off meeting held in November last year, the bureau said in a statement released on Wednesday night.
During the gathering, both government offices expressed their full support and cooperation to ensure the success of the electronic exchange with ASEAN member states via the ASEAN Single Window (ASW) System.
They also agreed to promote trade facilitation and strengthen the relations between the two government agencies regarding the import and export of plants and plant products.
Representatives from the DA-BPI headed by Director Gerald Glenn Panganiban, including officials from BOC, Department of Finance, and the United States Agency for International Development - ASEAN Policy Implementation Project, were present during the assembly.
The Philippines is expected to exchange the e-Phyto certificates with ASEAN using the BOC Electronic Phytosanitary (e-Phyto) Management Portal.
The BOC's e-Phyto Management Portal also has access to the e-Phyto certificates issued by DA-BPI, the country's official National Plant Protection Organization (NPPO) and would also have access to e-Phyto certificates issued by the respective NPPOs of exporting countries.
Follow-up activities between the Philippine agencies include data and process mapping covering both incoming and outgoing e-Phyto messages with ASEAN, as well as system alignment with other modes of exchange currently implemented by the DA-BPI.
It added that the cross-border exchange of the e-Phyto Certificate would reduce document falsification, increase transparency and predictability in agri-food trade and facilitate faster customs clearance. (PNA)