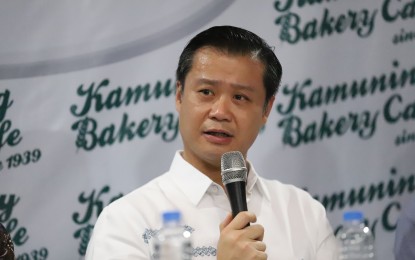 MANILA -- Senator Sherwin Gatchalian on Thursday underscored the importance of social media platforms in the continuous delivery of education in the face of the Covid-19 pandemic.
Speaking before the Pinoy Social Media Festival at the Lyceum of the Philippines in Intramuros, Manila, Gatchalian cited data from the Digital Report 2022 on the Philippines, which showed that there were 92.05 million social media users in the Philippines at the start of 2022, or equivalent to 82.4 of the total population.
Based on Meta's data, there were 83.85 million Facebook users in the Philippines at the start of 2022. Among Facebook users, 42 percent are aged 13-24 and belong to student age groups.
"That's where social media can be used for education because half of our population between ages 13-24 are on Facebook. This is where the opportunity comes in of using Facebook or social media to reach out to those students," Gatchalian said.
He also cited the case of Valenzuela Live program, which uses Facebook and YouTube as platforms for learning delivery, and the Valenzuela's Nanay-Teacher Program that used Facebook groups as alternative learning management systems.
To help struggling learners, Gatchalian recalled that the Valenzuela City government distributed 23,500 tablets to the city's poorest learners.
Moving forward, he said there is an urgent need for better investments in internet infrastructure nationwide.
According to World Bank Philippines' 2020 Covid-19 Low Income Household Panel and Economic (HOPE) Survey, 60 percent of the 25 percent poorest households have no access to the internet.
The survey also revealed that 98 percent of learners from these households chose printed self-learning modules as the primary mode of learning.
"There's an urgent need to narrow the digital divide as it hits hardest on poor learners," said Gatchalian, who has filed measures such as the Digital Transformation in Basic Education Act (Senate Bill No. 383) and the One Learner, One Laptop Act (Senate Bill No. 474) for the purpose. (PNA)