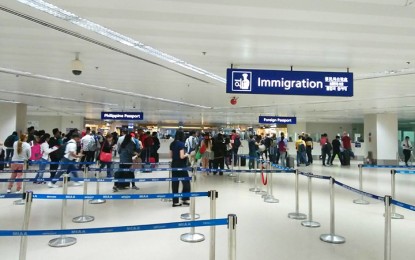 MANILA – The Bureau of Immigration (BI) on Thursday advised foreign residents in the country, especially Chinese nationals who are planning to spend the Lunar New Year holidays abroad, to process their reentry fees prior to departure.
BI Port Operations Division chief Carlos Capulong said this would spare them from long queues at immigration cashiers in the departure area of the three Ninoy Aquino International Airport (NAIA) terminals.
"A significant number of them are Chinese residents in the country, who are flying out to spend the Chinese New Year abroad. It results in a build-up of passengers at the airport, which may be avoided if they secured their permits before going to the airport," the BI official added.
Capulong noted that departing residents have the option to secure these permits at the airports or at any BI office nationwide.
He said securing the permits beforehand decreases processing time for passengers and give them more time to relax before their flight.
Likewise, the BI has a 24/7 one-stop shop located at the NAIA terminal 3, wherein departing passengers can secure their permits prior to departure.
Under immigration laws, foreign nationals who are registered with the BI, holding valid immigrant and non-immigrant visas are required to secure exit and reentry permits every time they leave the country.
It also includes permanent residents, foreign students and workers holding valid ACR I-cards. (PNA)