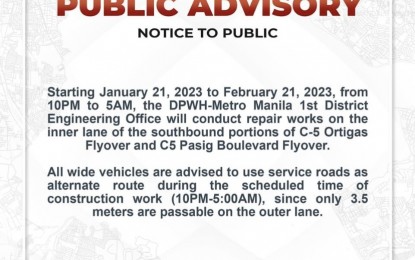 MANILA – The Department of Public Works and Highways-National Capital Region (DPWH-NCR) on Thursday announced that the repair of the expansion joints of the inner lane of the C5 Ortigas and C5 Pasig Boulevard flyovers would begin on Saturday.
In a Facebook post, the DPWH-NCR said the same repairs would also be conducted to the four meters of the inner lane of the two flyovers to complete the rehabilitation project.
The DPWH - Metro Manila 1st District Engineering Office has just completed the repair works on the first lane of the southbound portions of the said structures in Pasig City.
From Dec. 2, 2022 to Jan. 15, 2023, the 3.5-meter first lane of the southbound portions of the two flyovers underwent chipping works.
It also includes the installation of new bridge expansion joints on identified spans and is now passable to all types of vehicles.
As heavier traffic is expected in the duration of the repair activities and curing period, the DPWH-NCR advised all motorists with wide vehicles to use service roads as alternate routes since only 3.5 meters are passable on the outer lane.
The scheduled time of construction work is from 10 p.m. to 5 a.m.
It added that the project will replace the old bridge expansion joints, allowing more stability to the structural integrity of the bridges.
The repairs are expected to be completed on Feb. 21. (PNA)