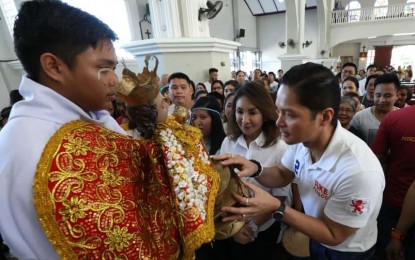 CEBU CITY – The town of Carmen in the northern part of Cebu, the home to the famous adventure and safari park in the province, is expected to be in the limelight as it will celebrate its version of Sinulog on Sunday (Jan. 22).
Carmen Mayor Carlo Villamor on Thursday said contingents from neighboring towns would join the celebration. The contingent from the neighboring town of Consolacion will perform the grande finale.
Cebu Governor Gwendolyn Garcia has confirmed her attendance. She will also offer a dance ritual in the Ati-Atihan-inspired Sinulog festival.
Villamor said the town is 90 percent ready to hold its own version of the festival in honor of the Sr. Sto. Niño at the town's Olympic-size grandstand.
"Nag-estorya na mi ni Gov. Gwen naay mo-participate nga additional contingents mao nga iya gi-enhance ang preparation sa Carmen (We have talked with Gov. Gwen that there will be additional contingents to participate in the event, so she enhanced the preparation in Carmen)," Villamor said in a radio interview.
He said the mayors of all the towns and components cities in the province, including Cebu City Vice Mayor Raymond Alvin Garcia, are invited to attend the event.
The celebration is expected to draw more crowds in this year's event, citing Garcia's dance performance and the well-publicized preparation and the confirmation of 22 contingents, including five groups from the capital city.
He also assured that the town prepared a traffic plan to avoid congestion, especially on the North National Highway.
The organizers, he said, will set up LED walls at the municipal hall as well as in the public market for the townsfolk to see live the grand parade through monitors in order to avoid overcrowding at the Sinulog venue.
The 10 contingents that received PHP800,000 subsidy each from the Cebu province but had withdrawn their participation for the Sinulog 2023 in Cebu City last week due to venue preparation concerns will perform in Carmen.
Unknown to many, the "Sinulog" in Carmen, according to the provincial government's social media page, was the first town to hold the festival in the province and not Cebu City.
In 1974, Fr. Jose Motus from Kalibo, Aklan, home of the Ati-Atihan Festival, and with the help of the late Virginio "Benyong" Villamor, then mayor of the town, organized the Sinulog.
During its launching in 1974, it was first called "Ati-Atihan sa Carmen" but was renamed Sinulog Festival the year after. The Grand Sinulog in Cebu City, on the other hand, began in 1980. (PNA)