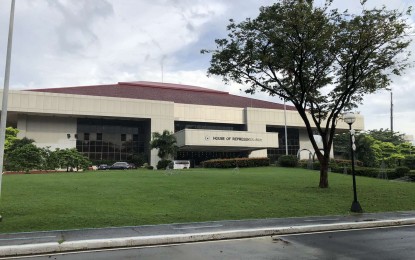 MANILA – House Speaker Ferdinand Martin Romualdez on Thursday vowed to work with fellow lawmakers for the immediate passage of measures aimed at ramping up "digitalization" which President Ferdinand Marcos Jr. highlighted in the World Economic Forum (WEF) Annual Meeting 2023 in Davos, Graubunden, Switzerland.
Romualdez said Marcos has regarded "digitalization" as a key component in sustaining the country's growth momentum.
In his opening remarks at the Country Strategy Dialogue on Tuesday, Marcos emphasized the importance of digitalization as a key driver for the long-term development and economic transformation of the Philippines to the post-pandemic global economy.
"The House of Representatives remains committed to passing the priority legislations of President Marcos, including measures for digitalization in both government and private transactions that would bolster efficiency, productivity and security," Romualdez said.
Romualdez, who is part of the official delegation of President Marcos to the WEF, said establishment of the framework for digital transformation "will undoubtedly help to enhance the prospect of the Philippines as an investment hub" that Marcos has successfully built up in Davos.
"Upon the resumption of the session, among the top priorities of the House is the passage of the E-Government and E-Governance Act, which would help accelerate our digital transformation to fuel growth momentum," he said.
In his one-on-one dialogue with WEF President Borge Brende, Marcos pointed out the immense potential of digitalization to boost economic growth.
Marcos' digital transformation agenda also received another boost as WEF founder and executive chairman Professor Klaus Schwab invited the Philippines to join a center the WEF is establishing, which is geared at working and sharing the newest technologies that could help countries develop economically.
Before the House adjourned for Christmas break, Romualdez said the House made a commitment to pass pro-people measures, including the Maharlika Investment Fund bill and 20 other priority bills of the Marcos administration.
He said they also work hard to pass Marcos' remaining priority bills included in the Common Legislative Agenda adopted by the Legislative-Executive Development Advisory Council.
Romualdez said he is buoyed by the interest generated by the sovereign wealth fund among the Davos participants.
"With the keen interest shown by investors and policymakers alike on the Maharlika Investment Fund, I believe we would be well on our way towards establishing a sovereign wealth fund to support the implementation of big-ticket infrastructure projects, particularly in energy and agriculture," Romualdez said.
The House on Dec. 15, 2022 approved House Bill 6608, creating the MIF.
According to a statement of the Presidential Communications Office, multinational investment firm Morgan Stanley made a commitment Wednesday to invest in the Philippines to back the government's development initiatives.
President Marcos met with Mr. Gokul Laroia, Chairman for Asia Pacific of Morgan Stanley, on the sidelines of the WEF in Davos.
Laroia said Marcos is on the right track in involving the private sector, especially in developing the country's infrastructure, adding that the sovereign wealth fund being pushed by the administration becomes interesting because a lot of the infrastructure investments will be carried out in the long term. (PNA)