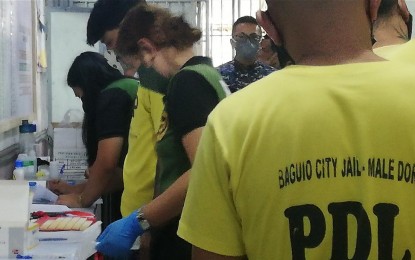 BAGUIO CITY – Personnel and persons deprived of liberty (PDLs) at the Baguio City Jail Male Dorm (BCJMD) on Thursday tested negative for illegal drugs anew, extending the facility's drug-free status to five years.
The Philippine Drug Enforcement Agency-Cordillera Administrative Region (PDEA-CAR) said the development came following a greyhound operation and drug testing at the facility.
"That is a very good indication that they have prevented the entry of illegal drugs into the facility. As of this day, they have sustained it," said Investigation Officer 5 Charlton Carame, head of PDEA-CAR's Land Transport Interdiction Unit.
Subjected under drug testing by the Baguio General Hospital and Medical Center were all 69 jail personnel at the BCJMD and some 40 PDLs or 10 percent of their population at the facility.
A greyhound operation involves an unannounced "strip search" of the facility for any illegal drugs or contraband.
"Canine sniffing and paneling of the PDLs rooms did not show any indication that they were in possession of illegal drugs," Carame said.
He said a jail facility is required to have three consecutive "negative results" during greyhound and drug testing operations.
Once complied with, the regional oversight and jail-clearing committee will convene and declare the facility as drug-free. Such a declaration is good for a year. The current certification will expire in March 2023.
"We have regular greyhound operations aside from the surprise drug testing of personnel. And we also conduct joint operations with the police and the PDEA," BCJMD warden Supt. April Rose Ayangwa said in a separate interview.
Ayangwa's predecessor, Mary Ann Tresmanio, earlier said: "I was warden for two years and five months and we were able to sustain the drug-free status. I am confident that the facility will continue to have such certification with the system already in place inside the facility to prevent the possible entry of illegal drugs."
Tresmanio said the jail had been declared drug-free for two consecutive years, since 2018. (PNA)