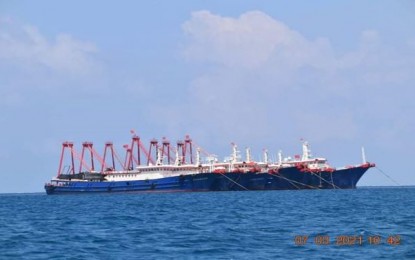 MANILA – The Philippines continues to show its commitment to peace, despite the still unresolved territorial disputes in the South China Sea (SCS), President Ferdinand R. Marcos Jr. said on Thursday (Manila time).
Marcos issued the statement, even as he admitted that the SCS issue preyed on his mind.
"It (SCS issue) keeps you up at night, it keeps you up in the day, it keeps you up most of the time," he said in a one-on-one dialogue with World Economic Forum (WEF) president Børge Brende in Davos, Switzerland.
"It's very dynamic. It's constantly in flux. So, you have to pay attention to it and to make sure that you are at least aware of the present situation so that you're able to respond properly," Marcos added.
Marcos said during his meeting with Chinese President Xi Jinping in China earlier this month, he raised the Philippines' long-standing dispute with China in the SCS, as he regarded it as an "important" issue that could not be avoided.
He said it would appear that he is not doing his job, if he fails to bring up the issue with Xi.
"There's no way to avoid it. We described it in diplomatic language as one part of our relationship. But it is an important and unavoidable issue that we have to ventilate. And we cannot sweep it under the rag and pretend it's not happening because there are effects not only in the diplomatic sense, not only in the security sense but even in the livelihood of our citizens," Marcos said.
Marcos, however, maintained that the only way to settle the maritime row is to pursue peaceful negotiations.
He said the Philippines could not afford to go to war with Beijing, noting that Manila was merely watching as a "bystander" whenever there are tensions between China and the United States vessels crossing the busy waterway.
This, as he said the Philippines is "at the very frontline" in cross-trade tensions between China and the US.
"We are watching as bystanders. And if something goes wrong here, we are going to suffer. That's why when asked, 'What is your foreign policy? How would you describe it?' I say it's a commitment to peace and guided very, very closely by our national interest," Marcos said.
"Some people say, even within the Philippines, we should do more. I said, 'What do you want to do? Go to war?' Nobody wants to go to war. China doesn't. The United States doesn't. Just having the tensions increase in the region already has an effect on trade, on all of the exchanges that we have within ASEAN (Association of Southeast Asian Nations), within the region, with China, with the United States," he added.
In an interview with Bloomberg on the sidelines of WEF on Tuesday, Marcos said the Philippines will not give up its territorial claims in the SCS.
China, the Philippines and several other littoral states have overlapping claims in the SCS where Beijing claims around 80 percent of the busy waterway.
The Philippines on July 12, 2016, won its petition filed before the Hague-based Permanent Court of Arbitration (PCA) after the arbitral tribunal invalidated China's claim of supposed historic rights over almost the entire SCS.
China, however, has ignored the PCA ruling. (PNA)