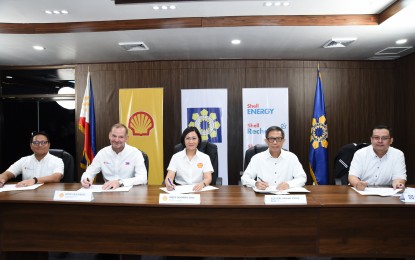 MANILA – The Department of Energy (DOE) has forged a tripartite memorandum of agreement (MOA) with Pilipinas Shell Petroleum Corp. (PSPC) and Shell Energy Philippines, Inc. (SEPH) Thursday to conduct a pilot study on the use of renewable energy like solar power in electric vehicle charging stations.
In a statement, DOE said Secretary Raphael Lotilla, PSPC president and chief executive officer Lorelie Osial, and SEPH president Bernd Krukenberg signed the MOA that aims to promote the use of clean energy in e-vehicle charging stations.
"I commend PSPC and SEPH for collaborating with the DOE for this laudable undertaking -- a sound testament of their resoluteness in maximizing value creation while contributing to global climate change mitigation," Lotilla said.
He added that this undertaking is in line with the implementation of the Electric Vehicle Industry Development Act (EVIDA), which aims to create an enabling environment to promote the adoption of e-vehicles and support infrastructures like charging stations.
Under the pilot project, the private sector will supply, install, operate and maintain e-vehicle charging stations; monitor and verify the energy efficiency, performance and savings in using renewable energy; and optimize the use of clean energy.
The output of the study will be used as a reference for the agency to develop programs, policies, and regulations in adopting the utilization renewable energy for e-vehicle charging stations, the DOE added.
It added that the data generated from the pilot study will also serve as benchmark for PSPC and SEPH in developing and rolling out of e-vehicle charging networks in their existing and future Shell-branded mobility sites.
"These alternative opportunities could position Shell at the forefront of their quest for sustainable and inclusive growth by adding a more long-term vision of clean technologies and renewable energy investment into their portfolio," Lotilla said.
Under the Philippine Energy Plan 2020-2040, the DOE targets a 10-percent penetration rate of e-vehicles for road transport by 2040.
As of 2021, there were 9,000 registered e-vehicles and 327 charging stations nationwide.
To boost the local e-vehicle industry, the Comprehensive Roadmap for Electric Vehicle Industry will be released by end of the first quarter of the year. (PNA)