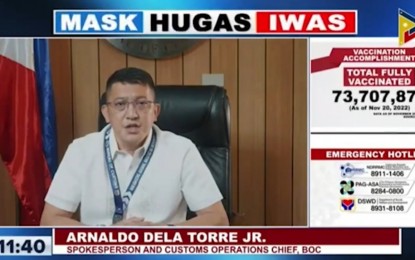 MANILA – An investigation is underway on the shipments of smuggled sugar seized in recent operations before these can be sold in Kadiwa stores, the Bureau of Customs (BOC) on Thursday said.
"The Bureau of Customs, since last year, we have seized some agricultural products, particularly sugar. These are the ones that are currently being investigated after the issuance of a warrant of seizure by our bureau," BOC operations chief and spokesperson Arnaldo dela Torre Jr. said in a Laging Handa briefing.
Last Jan. 11, Customs officers at the Manila International Container Port (MICP) intercepted PHP24 million worth of smuggled imported refined sugar from Hong Kong, which was declared to contain insulators, surge arresters and slipper outsoles.
The latest seizure of smuggled sugar by the BOC is the 4,000 metric tons of refined sugar from Thailand worth PHP240 million at the Batangas Port on Jan. 13.
"Those that were seized at MICP and in Batangas, the bureau is conducting an investigation so that we can have complete jurisdiction and give it to the government," the BOC official added.
In 2022, the BOC recorded over 700 seizures of smuggled goods amounting to PHP24.28 billion.
Of the amount, a total of PHP1.87 billion represents agricultural products, while the rest are seized illegal drugs (PHP11.95 billion) and counterfeit goods (PHP7.69 billion).
Meanwhile, Dela Torre reported that they are nearing the full digitalization of the bureau's processes.
He said the BOC is fully supportive of President Ferdinand R. Marcos Jr.'s push for the digitalization of their processes to stop smuggling.
"The Bureau of Customs welcomes the suggestion, the observation of our President. Although we have started digitization programs -- we have already digitized almost 92 percent -- the need and the urgency to fully digitize the Bureau of Customs is still there. It is necessary for the Bureau of Customs to digitalize, and the suggestion of our President is a good start to intensify our campaign against smuggling to generate more revenue," he added. (PNA)