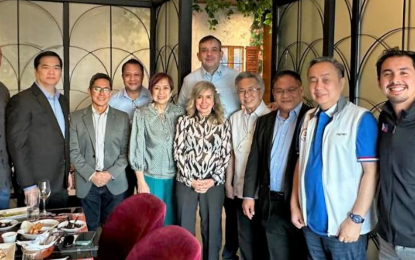 MANILA – The Philippine Olympic Committee (POC) and the Philippine Sports Commission (PSC) met for the first time this year on Jan. 18 with the Cambodia Southeast Asian Games on top of the agenda.
"It was a fellowship and working dinner meeting that delved more on the training of the SEA Games-bound athletes," POC president Abraham "Bambol" Tolentino in a news release on Thursday.
"There, too, were discussions on equipment that would be handed over to national sports associations and even local government units," added Tolentino, also head of the Integrated Cycling Federation of the Philippines (PhilCycling).
He claimed that the late arrival of technical handbooks (THBs) on the 49 sports featured at the Cambodia SEA Games is hampering preparations.
"The THBs were issued only days ago and most of them contain some errors, mistakes the host organizer has apologized for," he said.
Tolentino also mentioned about revisions on the number of entries in the Philippine delegation. The Cambodia SEA Games organizers have set the deadline on Jan. 14.
PSC Chairman Richard "Dickie" Bachmann, accompanied by commissioners Walter Torres and Olivia "Bong" Coo, joined the dinner held at the Barsino of the Maison Mall at the Conrad Hotel in Pasay City.
Joining Tolentino were POC auditor and Team Philippines chef de mission to Cambodia Chito Loyzaga, chairman Steve Hontiveros, secretary-general Atty. Edwin Gastanes, treasurer Cynthia Carrion-Norton and Athletes Commission head Nikko Huelgas.
Loyzaga earlier said the Philippines will send 1,200 delegates, including 800 athletes, to the Cambodia SEA Games slated on May 5-17 this year.
Loyzaga and deputy chefs de mission Paolo Tancontian, president of sambo association, and Leonora Escollante, canoe-kayak head coach and international technical official, will attend the first Chef de Mission Meeting on Jan. 24-25 in Phnom Penh, main hub of the SEA Games.
The PSC has allocated a PHP250 million budget for the country's participation in the biennial regional sports meet.
The tournament to be hosted by Cambodia for the first time features 608 events in 49 sports. The 2019 Manila edition had 530 events in 56 sports while 526 events in 40 sports were programmed at the Vietnam Games last year. (PNA)