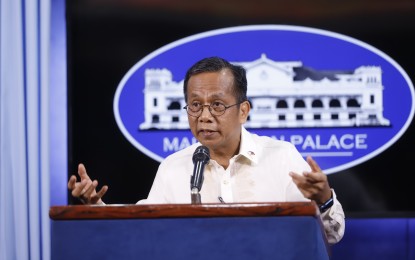 MANILA – National Economic and Development Authority (NEDA) Secretary Arsenio Balisacan said the investment pledges that President Ferdinand R. Marcos Jr. were able to secure during his foreign trips would benefit Filipinos even beyond his term.
These investment pledges, when realized, will help in creating jobs and improve productivity, Balisacan said in a press briefing in Davos, Switzerland on the sidelines of the World Economic Forum (WEF).
While in Switzerland for the WEF Annual Meeting 2023, Marcos has secured investment commitments from New York-based financial institution Morgan Stanley and Dubai-based logistics firm DP World.
Marcos has also met with Glencore chief executive officer Gary Nagle, as the company is interested to expand its mining and processing operations in the Philippines.
Balisacan said in order for these companies to solidify their investment decisions in the Philippines, they have to see the sustainability, predictability, and the transparency of the country's investment climate.
"We need to be practical. I mean, these investment decisions, especially putting up factories, for example -- these are decisions that are not realized overnight, there are stages of implementation," he said in mixed English and Filipino.
But he added that when these investments materialize, the new factories, roads, highways, and other infrastructures will benefit Filipinos even beyond the term of Marcos which ends in 2028.
At WEF's CEO Dialogue on Philippines last Jan. 17, Department of Trade and Industry (DTI) Secretary Alfredo Pascual urged multinational companies to look into investment opportunities in the Philippines, especially as the country embarks on its industrial transformation.
"To further attract investments in the Philippines, it is imperative that we facilitate industrial transformation that will complement our economic recovery initiatives We, at DTI, consider science, technology, and innovation (STI) as our main drivers. STI will facilitate the development of new oods, services, and even industries; increase production efficiency, and strengthen industrial linkages," Pascual said.
At the MSME's Going Global session, the DTI chief shared that the Philippine government is prioritizing the digitalization of micro, small and medium enterprises (MSMEs) for them to reduce operational cost, expand markets, and increase productivity.
"As MSMEs grow, they contribute to our overall economic development, that is why it is important that the government empowers them," he added. (PNA)