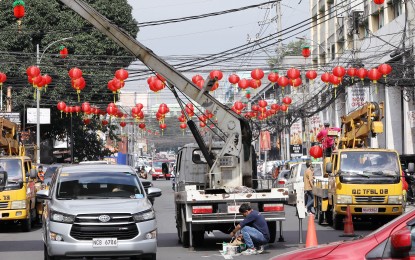 MANILA – Quezon City Mayor Joy Belmonte, together with the Filipino-Chinese community in the city is drumming up support for the city's celebration of the Chinese New Year as an alternative to the annual celebrations in Manila's Chinatown.
QC Association of Filipino Chinese Businessmen Inc. (QCAFCBI) president Joaquin Co and QC Chinatown Development Foundation (QCCDF) chairman Charles Chen said the Chinese New Year event that will be held in Banawe Street on Sunday is "a good alternative" to the festivities in Binondo, Manila that has become overcrowded.
They said people can enjoy the same spectacles -- like float parades, dragon and lion dance performances, and fireworks displays -- and enjoy authentic Chinese cuisine, among others, just like in Binondo, but without the overcrowding that goes with it.
Among those who will perform during the event are the Philippine Kong Han Athletic Club Lion Dancers, the Philippine Cultural Chinese 20-piece Orchestra, the Chinese Cultural Dance Group, and the Philippine Institute of QC Children's Glee Club.
Adding excitement to the event are singers Shiloh Choy and Shawn Tan, who will render solo performances, while the Philippine Wushu Colleges and Clubs Association will conduct a wushu exhibition.
Meanwhile, renowned feng shui master Rev. Fr. Wong Seng Tian will also give his predictions for the Chinese New Year.
Belmonte expressed his full support to the activities by acknowledging the significant contributions of the Filipino-Chinese community, especially in the city economy.
"The Chinese New Year celebration is important for us here in Quezon City because we have a significant Filipino-Chinese community here and this is a very big part of their culture, we would like to give them a chance to express their culture, we would like to support them as part of our inclusivity policy," Belmonte said in a press briefing.
"The Filipino-Chinese community has contributed so much to our city's economy as well, and we would like to recognize that contribution to us. Kailangan na kailangan natin na ipagdiwang ito kasi kailangan nating ipakita sa ating mga (We really need to celebrate this important event because we to show to our) Filipino-Chinese brothers and sisters that their contribution is valued, and that they are a significant part of our community," she added.
The Banawe area, Belmonte noted, has been declared an official tourism destination, along with the city's Chinatown, in 2015 through City Ordinance No. 2453-2015.
In line with the celebrations to welcome the Year of the Water Rabbit, parts of Banawe Street, from Cuenco Street up to the Quezon Avenue area, will be closed to traffic from 9 p.m. on Saturday, January 21, to 9 p.m. on Sunday, January 22.
Motorists are advised to take alternate routes: from Quezon Avenue, turn right to Biak Na Bato Street, turn left to Dapitan Street, turn left to Cordillera Street, and back to Quezon Avenue.
Alternatively, from Quezon Avenue, motorists may turn right to Biak Na Bato Street, turn left To Maria Clara Street, turn left to D. Tuazon Street, and back to Quezon Avenue.
Quezon City Police District (QCPD) director Police Brig. Gen. Nicolas Torre III meanwhile assured the public that enough numbers of police officers will be deployed in the area to maintain peace and order.
As the Covid-19 threat is still present, the city government is encouraging the public to wear face masks. (PNA)